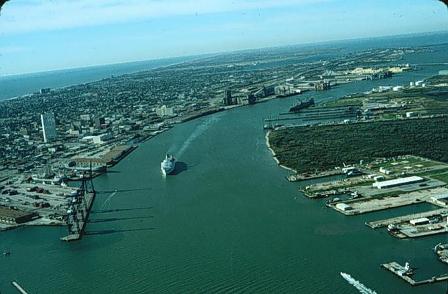 GALVESTON — The Port of Galveston's governing board on Monday will consider two separate agenda items related to developing more berths to accommodate the island's booming passenger liner business.
The port operates two cruise-ship terminals — the Texas Cruise Ship Terminal at Pier 25 and Cruise Terminal No. 2 at Pier 27 — but needs more berths.
Five cruise ships — some seasonal and some year-round — will be sailing from Galveston by the end of the year.
Those ships are: Carnival Cruise Lines' Magic and Triumph, which sail year-round; Royal Caribbean International's Mariner of the Seas, which calls Galveston home in the winter; Disney Cruise Line's Magic, which makes its island debut in September; and Princess Cruises' Crown Princess, which launches its seasonal sailing from the island in December.
Finding space for all the ships is a good problem to have but a challenge all the same, port officials said.
Some cruise lines have had to modify their schedules to avoid having three ships needing to dock at two terminals on the same day.
Disney Magic will depart on Saturdays from Sept. 22 through Dec. 21 then begin a series of six- and eight-day cruises leaving on alternating Fridays and Saturdays to make way for other ship schedules. Disney, however, would prefer to offer seven-day cruises on Saturdays, Port Director Mike Mierzwa said.
On Monday, the Wharves Board of Trustees will consider approving an agreement — with a cost not to exceed $60,000 — between Galveston Port Facilities Corp. and design and consulting firm CH2M Hill for a conceptual study of how to berth three cruise ships on the same day.
There was a time, about six years ago, that the port was able to accommodate three cruise ships at once.
"The ships were a little shorter then," Mierzwa said.
But cruise lines are commissioning ever larger ships to increase passenger count, which poses the challenge, Mierzwa said.
"I can only go so far east and west," Mierzwa said of expanding existing terminals.
Expansion too far east of the Texas Cruise Ship Terminal would interfere with restaurant, tourism and retail developments at Pier 22, which is port property, he said. To the west, a grain elevator occupies port property.
The study is meant to give Mierzwa, the board and port staff an idea of what improvements would have to be made or could be made to accommodate all the ships that want to sail on Saturdays, Mierzwa said.
Having developed the No. 1 cruise ship port in the Gulf of Mexico, waterfront managers might be a little worried about choking on their own success. They want to accommodate as much business as the port can attract without having to ask customers to juggle their itineraries.
In a separate but related agenda item Monday, Mierzwa will ask the wharves board to discuss and consider a letter of intent from TMP-PRISMA Marina Management LLP for a public/private partnership with the port to develop about 96 acres of port-owned land on Pelican Island for a combination cruise/cargo terminal facility.
Halliburton Energy Services, 1800 Seawolf Parkway, is to the west of the 96 acres and Galveston-Texas City Pilots' offices, 1301 Pennzoil Road, is to the east of the parcel that's directly across the channel from piers 16-18.
The port, which has long wanted the land developed, would like to see a multiuse building at the site that would allow for general cargo and a cruise ship terminal when needed, Mierzwa said.
TMP-PRISMA Marine Management is affiliated with Texas, Mexico & Pacific Railroad, a short-line railroad company. Late last year, the wharves board approved terms of an option agreement that would allow Texas, Mexico & Pacific Railroad several years to study, design and obtain permits for the development of a $600 million bulk cargo terminal on Pelican Island.
The wharves board approved entering an option agreement with Texas, Mexico & Pacific Railroad to lease 185 acres of undeveloped port land on the northeast corner of Pelican Island. The proposed bulk cargo terminal isn't related to controversial efforts by the port to develop a container terminal.
The combination cruise/cargo terminal facility would be developed by principals of the same group proposing the bulk cargo terminal, but likely would have different financial backers, Mierzwa said.
A Pelican Island cruise-ship terminal would be a no-frills facility and be able to accommodate other cargo when it isn't being used for cruise passengers, Mierzwa said.
Friday, the port declined to release TMP-PRISMA's letter of intent until Monday, when it would become public at the meeting. The wharves board will decide Monday whether to approve staff entering discussions with TMP-PRISMA about the Pelican Island terminal. Those discussions would not commit the port to any agreement.
It's too soon to say what shape a public/private partnership with the port would take or whether the port would pursue both a terminal expansion on the Galveston side of the channel and development of a terminal on Pelican Island, Mierzwa said.
But the port, which isn't supported by tax dollars and must plow its revenues into repairing aging docks, is seeking the most cost-efficient remedy, Mierzwa said.
The port, which generates about $25 million a year in operating revenues, has considered a third terminal since 2004, but hasn't had the cash to pursue it.
The passenger liners, which carry tourists on trips to Mexico and the Caribbean, bring in about $5 million yearly to the port.
The port is $60 million in debt, accumulated mostly from development and renovations of cruise ship terminals. Last year, it spent about $12 million on improvements to the Texas Cruise Ship Terminal to meet contractual agreements with Carnival, which wanted upgrades and more seating before replacing its island ships with the larger Magic and Triumph.
Mierzwa said he'd like to avoid taking on more debt to develop a third terminal.
In July, the wharves board is set to discuss long-term goals that also would include discussions about cruise-ship terminal expansion, Mierzwa said.
By Laura Elder, The Daily News