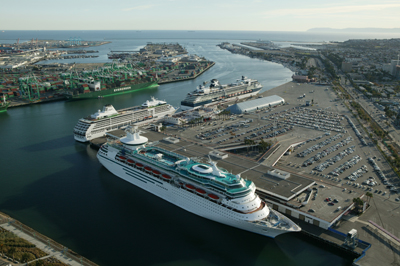 The Port of Los Angeles is seeking proposals from commercial real estate developers to redevelop the 30-acre waterfront property known as Ports O' Call Village, located along the port's main channel and adjacent to downtown San Pedro.
"We are investing hundreds of millions of dollars in public waterfront infrastructure along 16 miles of community-adjacent port property at the Port of Los Angeles," said Port Executive Director Geraldine Knatz. "We're building a waterfront to fit the scale of the largest port complex in the Western Hemisphere at the doorstep of the largest regional market in the western U.S."
The development site includes 3,000 linear feet of water frontage and 375,000 square feet of retail and tourism-related entitled uses. Located at the south end of the Harbor Freeway, the site is accessible to downtown Los Angeles and other key areas of Southern California.
The parcel was developed as Ports O' Call Village in the 1960s. The property is located just south of San Pedro's historic downtown business and is within walking distance from the port's World Cruise Center, which sees hundreds of thousands of cruise travelers each year. Other attractions within walking distance include the USS Iowa Battleship museum and Crafted at the Port of Los Angeles, a large-scale permanent indoor craft marketplace fashioned from two World War II warehouses by the developer of the Bergamot Station Arts Center in Santa Monica.
The proposed redevelopment site is in the immediate vicinity of several public waterfront enhancements, including a new downtown harbor and public plaza slated for completion in 2014. In recent years, the port has made extensive investments in promenades, marinas, parks and other public waterfront amenities aimed at providing greater public access to the waterfront. In addition to the multi-phase, $36 million Downtown Harbor water basin, promenade and public plaza under construction, other projects completed or underway include the $130 million Cabrillo Way Marina and public promenade, the $16.3 million Fanfare Fountain and Plaza, and the $23.4 million Harbor Boulevard Parkway promenade.
The port plans to select a master developer to carry out a comprehensive redevelopment of the property and enter into a long-term ground lease. Developers interested in responding are encouraged to attend a pre-proposal meeting at 2 p.m. Aug. 8 at The Plaza at Cabrillo Marina, 224 Whalers Walk, San Pedro.
By TravelPulse