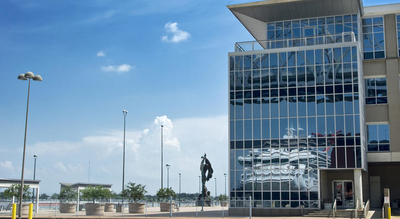 The Port of New Orleans continues to grow as a cruise hub.  Tourists and locals alike are taking to the seas and rollin' on the river.
"We are on pace to surpass our 2017 milestone for cruise passengers," says Donnell Jackson, Media Relations Manager for the port. "In 2017, we saw more than 1.15 million cruise passengers."
And, that was the 4th consecutive year the port has seen over a million folks embark and disembark in the city. Jackson says the city gets much of the credit.
"The city of New Orleans, in itself, is a popular tourist destination. People want to visit New Orleans for its culture, history, energy and various other reasons. So, when you combine that with the port's state-of-the-art cruise terminals located in the heart of the city, it creates a cruise experience that they just can't get anywhere else."
But, he says locals are contributing to the port's success, as well. "More and more locals are taking advantage of what they have in their own backyards. Some 36 destinations along the Mississippi, in the Western Caribbean or even the Bahamas, are just a short drive down to the river."
Jackson says the river cruise industry is really taking off. "Both of our river cruise partners, American Cruise Lines and the American Queen Steamboat Company, are considering adding new vessels in 2019." He says the river cruises offer "the unique experience of sailing up the Mississippi River to cities such as Vicksburg and Memphis, Tennessee."
What with the port's bigger crowds and burgeoning business..."we're gonna need a bigger boat." And, it'll be here in November. That's when Norwegian Cruise Line will replace its current ship, the Norwegian Pearl, with the Norwegian Breakaway. At 1,068 feet, the 4,000-passenger ship will be the largest the port has ever docked, both in length and passenger occupancy.
"In 2019, Carnival Cruise Lines will increase its capacity on its short-cruise program, replacing the Carnival Triumph with the Carnival Valor. Valor is a 3,000 passenger ship."
And, Royal Caribbean returns to town later this year. "It's going to homeport a 25-hundred passenger ship, Vision of the Seas, in New Orleans, offering a new cruise experience to guests," says Jackson.
He sees a busy few months ahead, as we enter the summer cruise season and celebrate the city's tricentennial. Beyond that, Jackson sees a bigger and better future for the country's 'central port'.  
"We are the sixth largest cruise port in the U.S.," says Jackson. "And, we're fortunate enough to where we can work with our cruise partners and really market ourselves as being one of the best cruise ports in the nation."
By Don Ames, WWL.com
Re-posted on CruiseCrazies.com - Cruise News, Articles, Forums, Packing List, Ship Tracker, and more
For more cruise news and articles go to https://www.cruisecrazies.com