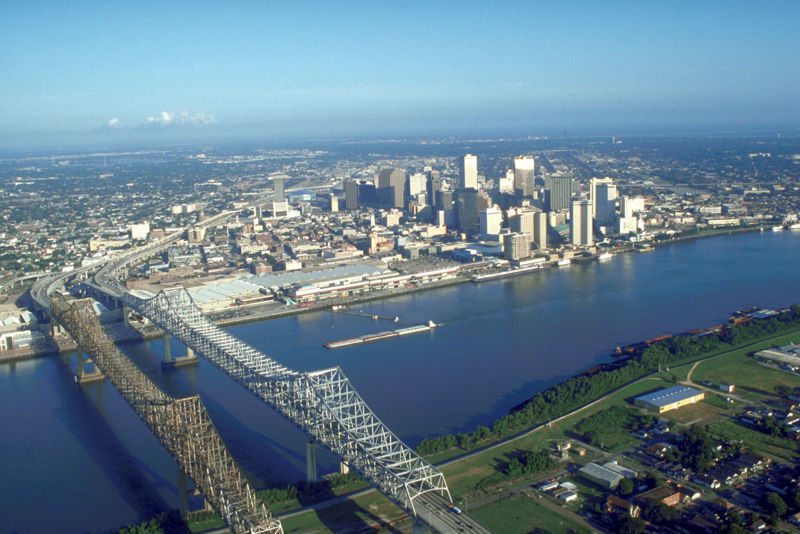 As work gears up this spring on a new cruise terminal at Poland Avenue, officials at the Port of New Orleans are making their pitch to potential tenants, including the most famous mouse in the world. Gary LaGrange, president and CEO of the Port of New Orleans, said he sat down recently with Disney Cruise Line executives to suggest they consider a home port in New Orleans when construction is completed on the new terminal in 2014.
The competition is fierce, with "as many as a dozen ports" that would like to lure the family-oriented cruise liner, but LaGrange said he feels "pretty good about any chances we may have in the future to bring them here."
Port officials worked to sell the family-friendly attractions in the city, as well as the opportunity for passengers to stick around for a few days before or after a cruise.
For his part, LaGrange said he has the numbers to back that up: In 2011, cruise passengers stayed an average of 1.8 nights in the city, either before or after their cruise, according to a 2012 study commissioned by an industry group. A separate study by the Port of New Orleans said the visitors spent $27.9 million on lodging, food, beverage and other expenses.
The cruise ship industry has been growing steadily in New Orleans in recent years, officials say. The number of passengers leaving from the city jumped 41 percent in 2011, hitting 736,908 people, which put it in the top 10 of U.S. cruise ports, according to the industry study, paid for by Cruise Lines International Association.
"I think it would be good for the city, and it would allow us to put another feather in our cap for what the mantra of New Orleans is," LaGrange said about the potential for luring a Disney ship to the port. "It's not all about Bourbon Street, it's not all about the French Quarter, but those are aspects, but to bring in the museums and other aspects."
Later this year, Disney Cruise Line is slated to offer an itinerary departing from Galveston, Texas, on a seven-night Western Caribbean trip. In 2014, Disney plans to set sail on cruises out of Port Canaveral and Miami, as well as Vancouver and San Juan. A spokesperson for Disney Cruise Line did not return a call for comment Monday.
Landing the cruise liner in New Orleans could help bolster the city's standing as family-friendly vacation destination, industry experts say.
"If you get Disney, it's sort of the seal of good housekeeping," said Oivind Mathisen, editor of Cruise Industry News, a New York trade newsletter.
"Obviously they attract families, more families than the other cruise lines since they're so family-oriented, it's sort of a stamp of approval on the port as a family destination," Mathisen said.
Disney has been "moving ships around quite a bit," said Mathisen, who speculated that the theme park giant is eyeing ports that lend "a lot of visibility and awareness of the cruise brand."
For now, LaGrange has his sights set on planning for 2014 and beyond. "If you start working 12 months, you're late, I think." Still, bringing Disney into the mix is "not in the bag, far from it, but at least we're in the game, and that's the main thing," he said.
LaGrange expects that the port will begin engineering and designing the terminal this spring, with construction to start as soon as the third quarter of the year. The Poland Avenue project is expected to cost about $23.1 million, with the state's share being about $15 million.
The new terminal, in addition to the port's cruise ship facilities on Julia and Erato streets, may not be the last. "The notion of building a fourth (terminal) is not far-fetched, either," LaGrange said. "The minute we draw up the first piling for this third terminal, about that same time, we need to be thinking about a potential fourth terminal, based on what we see as the future demand."
For now, the Poland Avenue facility will add capacity for two more cruise ships to call on the port, which would add about 25,000 additional people passing through its terminals each weekend, LaGrange said.
Robert Jumonville, director of cruise operations for the port, acknowledged that luring a Disney cruise ship from places like New York and Miami would be "awfully hard to compete against," because of Miami's reputation as a world-renowned cruise port and New York's population. "But we can compete evenly, if not a little better, with Galveston," he said.
"It's not like a hotel, once you build it, you're stuck there," Jumonville added. "They're going to go according to the movement of the population base, or wherever they think they can get more bang for their buck, they'll move at the drop of a hat. So we just try to tell them we have a better mousetrap here."
Jumonville said other changes are in store in New Orleans this year: The Norwegian Jewel will begin sailing from the port in the fall, offering seven-day Western Caribbean cruises through April 2014, the first time Norwegian Cruise Line has brought a Jewel-class ship to the Crescent City.
Royal Caribbean's Serenade of the Seas is scheduled to set sail out of the port in December, offering trips to the Bahamas and Western Caribbean, replacing the Navigator of the Seas. And Carnival Cruise Lines plans to bring its Carnival Sunshine to New Orleans in November for Caribbean departures after work finishes this spring on a $155 million renovation to the ship.
"To get another ship, we really need another terminal, and we look at it on the basis of if we don't build a terminal, they won't come to New Orleans," Jumonville said about the Poland Avenue project. "If we build it, they'll probably come."
David Pearlman, an assistant professor at the Kabacoff School of Hotel, Restaurant and Tourism Administration at the University of New Orleans, said the city's reputation as a family vacation spot has improved as local and tourism officials have worked to raise awareness.
"New Orleans is definitely seen as a family destination by a whole lot of folks," Pearlman said. "I think that there's been a little bit more emphasis on just kind of retooling and expanding that focus, just kind of really reintroducing people and letting them know that we're a lot more than fun for adults, we're also family fun and we do have many offerings."
By Richard Thompson, NOLA.com - The Times-Picayune
Re-posted on CruiseCrazies.com - Cruise News, Articles, Forums, Packing List, Ship Tracker, and more