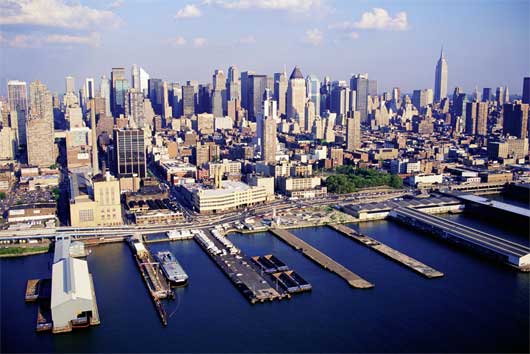 The Port of New York continues to cope with damage from Hurricane Sandy, with the Red Hook cruise terminal still being closed after taking a major hit from the storm, according to Thomas Spina, director of cruise operations for NY Cruise, who added that he hopes to have it open for a Dec. 22 call from the Queen Mary 2.
"There was four feet of water in the terminal and parking lot," said Spina. What also resulted was significant damage to all the cars left in the lot from Princess Cruises passengers.
Meanwhile, in Manhattan, Pier 88 remains on emergency power with the port hoping to have full power restored this week. The electrical-power substation supplying the piers was heavily damaged in the hurricane.
"The renovations done to Pier 88 saved us," Spina explained. "The electrical systems were pier level, these piers are from 1930 or so, and the architects had moved up the systems about five feet up and protected it … when we opened again we were able to run on emergency power."
Currently, turnarounds are being executed on the first floor, with no power for escalators or elevators. Pier 90 – which was not refurbished like Pier 88 – remains a longer term project.
"When the Coast Guard shut down the harbor, the last ships to leave were cruise ships," Spina continued. "And when they opened it, cruise ships were the first back in."
Spina did give credit to his team and partners in both Manhattan and Brooklyn, who managed to turn around five ships on last-minute schedules as the storm started to approach New York.
The winter season is underway despite pier damage, with Norwegian and Carnival homeporting in New York, and the Norwegian Breakaway set to make her debut in the city in May.
Source: Cruise Industry News