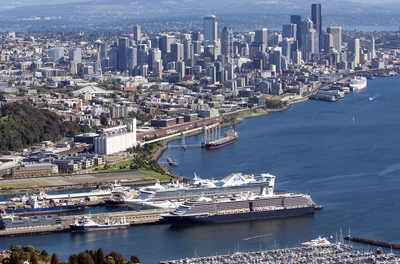 On Wednesday, the Port of Seattle started the process of building a $200 million cruise ship terminal along the Seattle waterfront.
The terminal would be built along Pier 46, which currently serves as a cargo shipping hub in SoDo.
"We want to be that welcome mat for people getting up to Alaska and appreciate the natural beauty, and hopefully come home and be more cognizant of their footprint. So, we're really excited about the opportunity," said Stephanie Bowman, president of the Port of Seattle Commission.
Bowman said the plan is contingent on about one-third of the current cargo vendors moving to Terminal 5.
On Wednesday, the Port of Seattle Commission issued a Request for Qualifications (RFQ) to draw a private cruise-ship partner to operate out of the new terminal.
The partner will be responsible for 50 percent of the development costs, which is about $100 million.
Bowman said more than 1.1 million people on Alaskan cruises passed through Seattle in 2018. The Port expects more than 1.2 million passengers to pass through in 2019. The cruise industry brings in $900 million annually to the state's economy, according to the Port.
"It's been great," said Bowman. "That business is very successful and obviously it's a big boon to the downtown waterfront."
Bowman said the goal is to open the new cruise terminal for the 2020 cruise season.
Some raised concerns about the environmental impacts of adding a third terminal.
"We need to make sure that they comply and there is proper technology such as shore power implemented by Seattle and we reduce the impacts to our marine wildlife that so many people depend on around here," said Verner Wilson, Senior Oceans Campaigner for Friends of the Earth.
Bowman said Pier 46 will have shore power when it opens.
"We're going to be installing shore power, which essentially allows ships to plug in at berth, so they're not idling," said Bowman.
The two other operating cruise ship terminals are at Pier 91 in Magnolia, and Pier 66, north of Colman Dock along the Seattle waterfront.
Bowman said having a terminal in SoDo will help with efficiency for passengers arriving from Sea-Tac airport with the anticipated extension of Sound Transit light rail into downtown Seattle, expected to be completed by 2023.
By Patrick Quinn, KOMO News
Re-posted on CruiseCrazies.com - Cruise News, Articles, Forums, Packing List, Ship Tracker, and more
For more cruise news and articles go to https://www.cruisecrazies.com