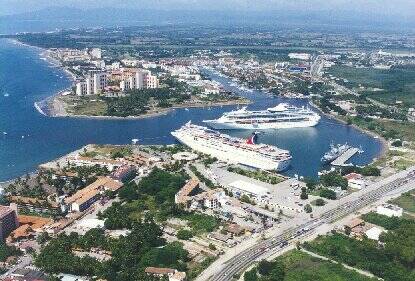 The City of Puerto Vallarta has celebrated the re-opening of the Los Muertos Port located in its downtown. The port, which was once one of the main ways to connect the city to others on the Bay of Banderas, underwent a $2.4 million makeover as part of the city's downtown renovation program.
"This icon of the city is a reflection of the modern and diverse products found in Puerto Vallarta. It is a sign of the thirst the city has for projects that will update and make Puerto Vallarta the best city to visit in the Pacific," said Ramón Guerrero Martinez, Puerto Vallarta's mayor, in a prepared statement.
He was joined at the celebration by Emilio González Marquez, governor of the State of Jalisco and the state's Secretary of Tourism, Aurelio López Rocha, for the ribbon cutting ceremony which included performances by the folkloric ballet, Xiutla, a Jazz Orchestra, fireworks.
The new port, designed by Mexican architect Jesus Torres Vega, provides a surface of 2,182 square feet with a pedestrian friendly zone, a waterfront promenade, scenic lighting and a landing dock that can hold up to 6 different medium size boats, most of which will be able to bring guests to the many private beaches located around Banderas Bay.
This smaller port will work in addition to the larger port where cruise ships dock as well as private yachts.
By Cruise Industry News