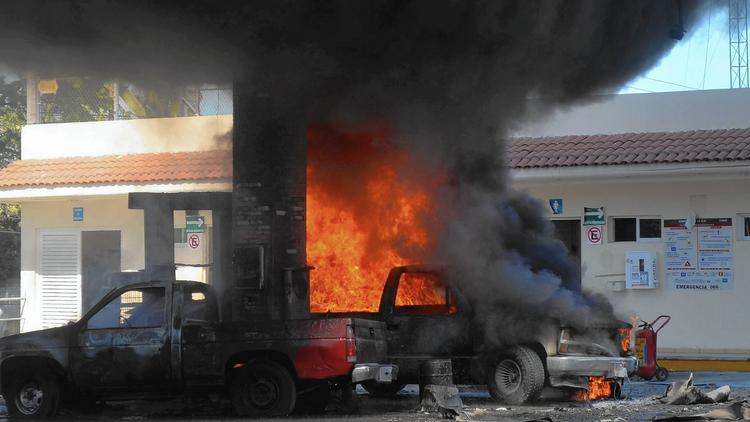 Royal Caribbean and Celebrity Cruises have canceled calls this week in Puerto Vallarta, Mexico, citing violence in the resort city.
Royal Caribbean's 2,501-passenger Jewel of the Seas will skip a stop at Puerto Vallarta scheduled for Tuesday, while the 2,170-passenger Celebrity Infinity bypassed the port on Sunday.
"Jewel of the Seas and Celebrity Infinity's calls to Puerto Vallarta were canceled due to the recently experienced episodes of violent civil unrest, stemming from criminal gangs that have engaged in armed conflict with local authorities," Royal Caribbean Cruises spokeswoman Cynthia Martinez tells USA TODAY.
Royal Caribbean Cruises is the parent company for both Royal Caribbean and Celebrity.
A Carnival Cruise Line vessel scheduled to visit Puerto Vallarta on Tuesday, the 2,124-passenger Carnival Miracle, will go ahead with the call but some shore excursions have been canceled "in an abundance of caution," Carnival spokesman Vance Gulliksen tells USA TODAY.
Gunmen in recent days have set fire to cars, buses, banks and gasoline stations in and around Puerto Vallarta and the surrounding Jalisco state, and they traded gunfire with soldiers and police. The violence erupted after security forces on Friday launched a campaign against an increasingly strong Mexican drug cartel in the region known as Jalisco New Generation.
Both cruise ships that are skipping Puerto Vallarta have replaced the calls with an extra day at sea.
Source: Gene Sloan (USA Today, May 11, 2015, "Violence Prompts Cruise Lines to Cancel Puerto Vallarta Calls")

Re-posted on CruiseCrazies.com - Cruise News, Articles, Forums, Packing List, Ship Tracker, and more.
 

Please visit CruiseCrazies.com for more cruise news & articles.
 

Featured photo credit: Francisco Perez, EPA