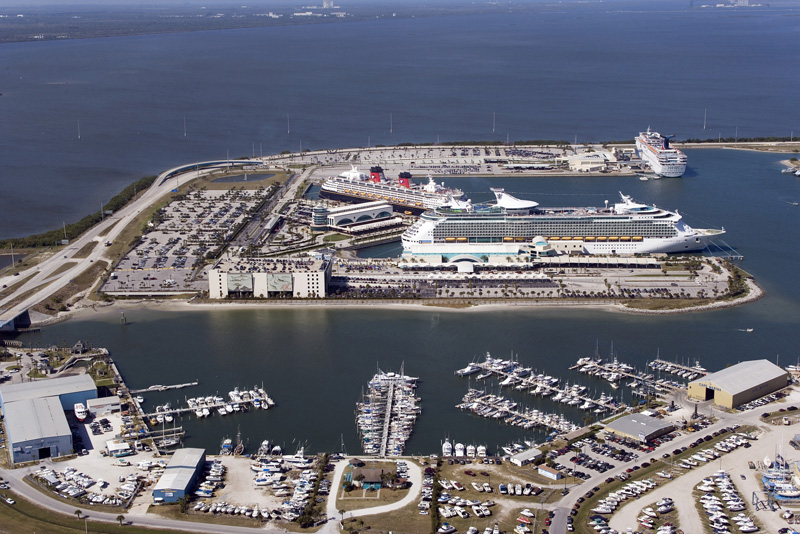 Port Canaveral expects Royal Caribbean International to announce that it is basing a third ship at the port in the winter of 2014-15, as the cruise line tests the waters for expanded service from Brevard County's seaport.
Port interim Chief Executive Officer John Walsh said an official announcement from Royal Caribbean is expected in about two weeks that the cruise line will have another ship at Port Canaveral, joining the Enchantment of the Seas and Freedom of the Seas for part of the year.
In addition, Walsh said during an interview with FLORIDA TODAY that he is in "accelerated" discussions with Royal Caribbean about the potential for bringing one of the cruise line's new megaships to Port Canaveral.
The port hopes to build a new cruise terminal to accommodate the world's largest cruise ships. Walsh sees that as a selling point to attract one of Royal Caribbean's planned 6,318-passenger Oasis-class ships or 4,905-passenger Quantum-class ships.
Royal Caribbean already has agreed to make Port Canaveral a port-of-call stop for its New Jersey-based Quantum of the Seas when that ship goes into service in fall 2014.
The company's two Oasis-class ships — Oasis of the Seas and Allure of the Seas — are based at Port Everglades near Fort Lauderdale.
Royal Caribbean has not announced the home port of its planned third Oasis-class ship or its second Quantum-class ship.
Walsh said he also is talking with representatives of cruise lines that do not have ships based at Port Canaveral about the potential for new service out of Port Canaveral. Among the cruise lines he has talked with are Celebrity, Holland America and Norwegian.
Walsh, other port officials and about 100 community leaders joined Enchantment of the Seas Captain Gus Andersson and senior officers of the ship aboard Enchantment on Monday for a plaque-and-key ceremony, a traditional maritime event, as they celebrated the basing of the ship at Port Canaveral.
The 2,730-passenger Enchantment, which operates three- and four-night cruises to the Bahamas, last week replaced the Monarch of the Seas, which had been based at Port Canaveral, but was redeployed to one of Royal Caribbean's sister companies.
Another Royal Caribbean ship, the 4,375-passenger Freedom of the Seas, sails seven-night cruises from Port Canaveral, alternating between eastern and western Caribbean itineraries.
Walsh said he is "grateful for the great partnership" between Port Canaveral and Royal Caribbean, which dates back to 2000.
Andersson said the cruise line and Port Canaveral have had "a long and very fruitful relationship." He said he looks forward to the time when Royal Caribbean can expand locally.
By Dave Berman, Florida Today
For more cruise news & articles go to http://www.cruisecrazies.com/index.html
Re-posted on CruiseCrazies.com - Cruise News, Articles, Forums, Packing List, Ship Tracker, and more