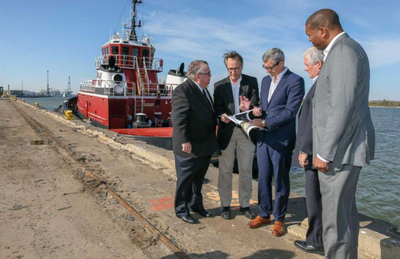 GALVESTON — Royal Caribbean expects to bring some of its largest ships to Galveston after investing close to $100 million to build a new cruise terminal at the Port of Galveston.
"When we're investing this heavily in the construction of a terminal and entering into long-term lease agreements, then that usually signifies that we will be bringing our ships such as the Oasis class," said Michael Bayley, president and CEO of Royal Caribbean International.
The 200,000-square-foot terminal is slated to open in the fall of 2021 and will be the third cruise terminal for Galveston, which is the fourth-busiest cruise port in the country. Just shy of 1 million people will board cruise ships from Galveston this year, and the port is about to see its 10 millionth passenger since it began cruise operations in 2000.
Bayley and Rodger Rees, port director and CEO for the Port of Galveston, signed a memorandum of understanding Wednesday to outline general terms for the deal. A final agreement must be approved by the Board of Trustees of the Galveston Wharves.
"At least the 11 months that I've been here," Rees said, "we've been working on this transaction."
The new terminal will be on 10 acres of land at Pier 10, which is in the port's southeast section. Royal Caribbean will initially lease the terminal land for 20 years. It will then have the option of extending that lease for an additional 10 years and can do this four times if desired.
The port will be responsible for items including maintenance, parking and improvements to the dock so that it can accommodate the larger vessels. Royal Caribbean will help with the cost of improving the docks.
With the traffic generated by the new terminal, Richard DeVries, a trustee on the Galveston Wharves Board that oversees port operations, said he hoped Galveston's port could rise a notch from its No. 4 U.S. ranking.
Ships in the Oasis class can hold more than 5,400 guests if each room has two people. Total guest occupancy surpasses 6,600, and the ships carry more than 2,000 crew members.
Royal Caribbean currently has two ships that sail out of Galveston: Liberty of the Seas, the largest cruise ship to sail from Texas with its capacity of 3,798 at double occupancy, and Vision of the Seas. These ships share Cruise Terminal 2 with Carnival Cruise Line and Disney Cruise Line. Terminal 1 is only used by Carnival.
Royal Caribbean will be the only cruise line to use Terminal 3. And after a few years of operating there, Royal Caribbean has the option to use Terminal 2 in addition to Terminal 3 if needed.
Bayley said Galveston is an appealing port because it gives many people in Texas, Oklahoma and other nearby states an opportunity to drive to their tropical vacations.
And the cruise industry, overall, is growing. According to the Cruise Lines International Association trade group, 28 million passengers were expected to cruise globally in 2018. That's up 57 percent from 17.8 million in 2009.
Rees added that just a small percentage of people who take annual vacations choose to cruise, so there's room for further gains.
"This industry almost has an infinite ability to grow," he said.
And if the port's growth continues as planned, Bayley said, it would be "a natural progression" to one day bring its LNG-powered Icon class of ships that are not yet sailing. They're expected to be similar in size to the Oasis class.
Note: This article has been corrected to reflect that nearly 1 million people will board a cruise ship this year in Galveston. The nearly 2 million number previously reported included the port's counting of passengers as they boarded the ship and then again as they got off the ship.
By Andrea Leinfelder, Cron.com
Re-posted on CruiseCrazies.com - Cruise News, Articles, Forums, Packing List, Ship Tracker, and more
For more cruise news and articles go to https://www.cruisecrazies.com