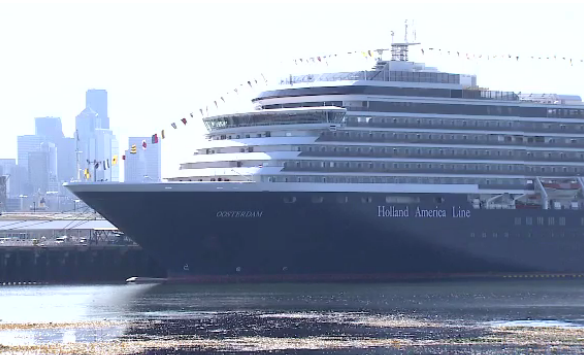 SEATTLE - The cruise ship season kicked off Sunday in Seattle - and this year hundreds of cruises will depart from the Emerald City.
For the local economy, this is when our ship comes in.
The arrival of Holland America Line's MS Oosterdam means the start of a very lucrative cruise season in the Puget Sound area.
As cruise ship passenger Kelli Pilsbury says, "We love Seattle."
She and her husband Kevin are on their way to Alaska. But before they get there, they will leave behind a lot of cash.
"By the time we're done it will be around $1,500 to stay here in Seattle a couple of days, but it's worth it," says Kelli.
More than 200 cruises are expected to dock in Seattle this season. And according to the port commission, each one of those ships brings over $2 million to the local economy.
Cruise passenger Jenni Johnson of Oswego, N.Y., is doing her part.
"A couple hundred at least," she estimates. "And if we order some fish to be sent back home that will be another hundred or so."
Multiply that by the more than 850,000 cruise ship passengers the port expects to arrive this year and it adds up to $416 million in annual business revenue - creating more than 4,300 jobs.
All the passengers who talked to KOMO News on Sunday were in a spending mood.
"We have spent a lot of money, and we probably will spend a lot more money," says Kevin Pilsbury.
It's a love affair with Seattle - that's paying off big.
Local tourism officials have set a goal of doubling Seattle cruise revenues in the next 25 years by encouraging passengers to spend more time in our area before and after their cruises.
By Theron Zahn, KOMO News