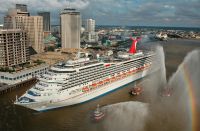 Nov. 5, 2011 will mark the beginning of a whirlwind nine days for the Port of New Orleans, as the first of three new and larger cruise ships will call the Crescent City home. The new additions will double the Port's cruise capacity, bringing the total number of homeported ships from two to four.
The 2,052-passenger Carnival Elation will arrive at the Port on Saturday Nov. 5 to sail year-round four- and five-night cruises to Cozumel and Progresso, Mexico. The ship replaces the Carnival Ecstasy which replaced the Carnival Triumph September 22.
On Nov. 12, Royal Caribbean Cruise Line's 3,114-passenger Voyager of the Seas will arrive to sail seasonal seven-day western Caribbean itineraries. The ship will be homeported in New Orleans during the winter cruise season from November to April.
The 2,974-passenger Carnival Conquest will arrive Nov. 13 to sail year-round seven-day itineraries to both eastern and western Caribbean ports of call. With the arrival of the Conquest, Carnival will have two ships homeported in New Orleans for the first time since Hurricane Katrina.
The three new ships join Norwegian Cruise Line's 2,018-passenger Norwegian Spirit currently sailing seven-day western Caribbean cruises from New Orleans. In the fall of 2012, the Norwegian Spirit will be replaced by the newer and larger 2,348-passenger Norwegian Star.
"This is truly the most exciting time ever for cruising in New Orleans," said Port President and CEO Gary LaGrange. "We have worked hard to regain the trust of the cruise industry following the events of 2005. By our calculations, the Port of New Orleans is on track to handle nearly 1 million cruise passengers in 2012, cementing our place as a top 10 cruise port in the United States."
Carnival's two cruise ships will homeport at the Erato Street Cruise Terminal and Parking Garage, which opened in the fall of 2006. Norwegian Cruise Line and Royal Caribbean will share the new Julia Street Cruise Terminal – which is currently nearing the end of a $17 million complete renovation. Royal Caribbean's Voyager of the Seas is the largest cruise ship ever to homeport in New Orleans.
Prior to the arrival of the new ships, the Carnival Triumph and Norwegian Spirit combined for a capacity of 4,776 passengers. With the additions, the combined passenger capacity of the four cruise ships is 10,158 passengers per voyage, a 112 percent increase.