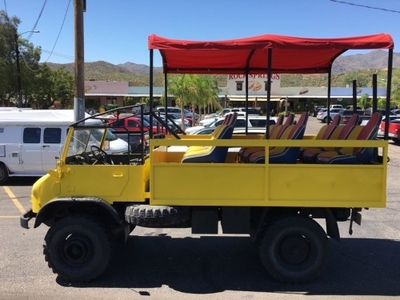 A Carnival Cruise Line passenger is suing the cruise company for injuries suffered when she was thrown from a tour bus on a safari-style excursion in the Bahamas.
Stacy Shelnutt was traveling in a 1965 Mercedez-Benz Unimog on a Bahamas Adventures shore excursion when she was violently thrown from the vehicle as it flipped on a Bahamian road Jan. 31, according to the lawsuit filed in Florida federal court.
The lawsuit, filed on behalf of Shelnutt by Ira H. Leesfield and Thomas D. Graham of Leesfield Scolaro in Miami, alleged Carnival knew about the rollover risk associated the Unimog, which was designed for use as a military troop transport. The Unimog had bench seats in the truck bed but no seat belts.
"Unimogs have a long tragic, and highly publicized history of rollovers causing injuries and deaths, which Carnival should have known with the exercise of reasonable care," the complaint said.
Shelnutt's lawyers also claimed the Unimog driver was inexperienced in operating the vehicle on the winding roads and didn't slow down when turning. The attorneys said 10 people were injured when the vehicle flipped on its side during a safari-style excursion.
"Passengers in the Unimog, including Stacy Shelnutt, screamed and yelled for the driver to stop. The driver was unable to react and maneuver the unstable and tipping-prone Unimog safely, which resulted in it tipping violently onto its left side," the complaint said.
"As a result of the violent and forceful rollover," it continued, "Stacy Shelnutt was thrown through the air and slammed into unprotected exposed steel beams crossing the sides and front of the Unimog. Other passengers were violently tossed, crashing into each other and into Stacy Shelnutt as the Unimog rolled over on its side."
Carnival did not respond to a request for comment by deadline.
After the accident, Shelnutt was airlifted from Freeport, Bahamas, to a hospital in Florida. She suffered multiple broken bones, muscle tears and fractures which required surgeries and the insertion of rods and screws.
The negligence suit was assigned to U.S. District Judge Robert Scola in Miami under a provision in Carnival passenger tickets requiring all litigation be handled in federal court. Carnival is incorporated in Panama and headquartered in Miami.
Shelnutt was cruising with her husband on an anniversary trip aboard the Carnival Dream, which originated in New Orleans.
The lawsuit claims Carnival and its excursion operators have a symbiotic relationship, and Shelnutt was unaware Bahamas Adventures was the operator.
Leesfield said dangerous excursions are becoming more common in the cruise industry.
"The cruise lines are, in an effort to raise their passenger revenue and beat their competitors, are offering more and more excursions and activities in the area of danger and hazard," he said. "We've gone beyond zip lines and parasailing and jet skiing; we've gone to Unimogs."
Leesfield added, "When people book a cruise, they book a cruise, but they don't book a safari. … I don't think the public understands how unsafe these excursions are because they're not carefully chosen and they're not carefully controlled."
By P.J. D'Annunzio, Legal Intelligencer
Re-posted on CruiseCrazies.com - Cruise News, Articles, Forums, Packing List, Ship Tracker, and more
For more cruise news and articles go to https://www.cruisecrazies.com