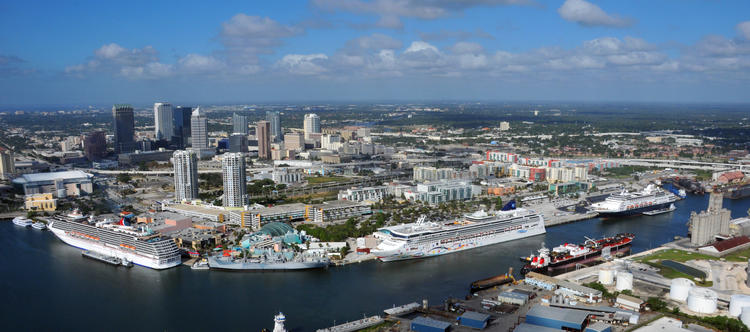 The Port of Tampa in December 2014 will gain the fifth cruise line to home port ships here when AIDA Cruises begins sailing to Western Caribbean ports of calls.
AIDA will begin sailing the first of four Western Caribbean cruises from Tampa for the 2014-2015 sailing season with the 1,266 passenger AIDAvita and will use the 2,194 passenger AIDAmar on seven cruises from Tampa for the 2015-2016 season.
"AIDA Cruises' announcement to come to Tampa is a milestone for us, not only at the port, but for all of our tourism and economic development partners in the region," said Paul Anderson, President and Chief Executive of the Port of Tampa.
The recruitment of AIDA, an operating company within the Carnival Group, resulted from a continuation of the Port of Tampa's partnership with the port's mainstay cruise line Carnival Cruise Lines, said Edward Miyagishima, senior adviser to the Port of Tampa's CEO.
It is the second announcement this year of additional cruise traffic planned for the Port of Tampa, which ranked seventh in embarkations among U.S. ports and fourth among Florida ports in 2012, a report by the Cruise Line International Association shows.
Royal Caribbean International in August announced it would deploy a second ship in Tampa for Western Caribbean cruises in the fall of 2014.
Carnival Cruise Line currently has two cruise ships that home port in Tampa for year-round sailings, while Royal Caribbean, Holland America Cruise Line and Norwegian Cruise Line offer seasonal sailings from Tampa.
A Tampa Downtown Partnership official hailed the news of the second addition of cruise service this year. "This is exciting as we see downtown destinations expanding with a greater base of tourism," said Donna Chen, the Partnership's Director of Marketing and Communications.
In addition to revenue the Port of Tampa gets from its cruise sailings, which include a boost for the authority's Channelside parking garage, attractions, restaurants and hotels throughout the area can benefit from cruise passengers depending on how they schedule their itineraries before boarding and after leaving their ship.
That can be a complicated dynamic, with cruise lines both promoting a port of embarkation while striving for passengers to spend as much money as possible once they get on board their ship.
"I think the cruise lines are helping us market the Tampa Bay area by (marketing) excursions to the Florida Aquarium, the zoo and city tours," Miyagishima said.
About 60 percent of the port's cruise passengers arrive in Tampa by air, he said.
"We constantly talk with Tampa International Airport officials to understand the time people spend from the time they walk off their plane to understand their whole experience," Miyagishima said.
The cruise industry customarily counts passengers at home ports twice — once when the passengers board and a second time when they leave.
The port of Tampa had 487,000 embarkations in 2012, the Cruse Line International Association reported, which amounts to about 974,000 passenger movements in Tampa.
"There is a likelihood we will be over 1 million passengers in 2015," Miyagishima said.
By Ted Jackovics, Tampa Tribune
For more cruise news & articles go to http://www.cruisecrazies.com/index.html
Re-posted on CruiseCrazies.com - Cruise News, Articles, Forums, Packing List, Ship Tracker, and more