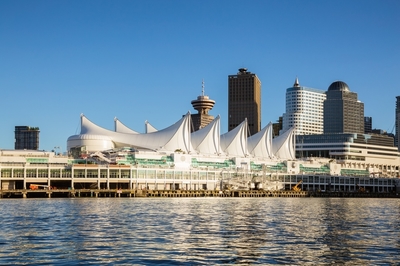 The largest cruise ship ever to dock in Vancouver arrived in the early hours of Sunday morning, slipping under the Lions Gate Bridge at low tide, shortly before 4 a.m.
The 1,094-foot Norwegian Bliss - with its capacity for nearly 6,000 passengers and crew, almost two dozen on-board restaurants and bars, two waterparks, mini-golf course, laser tag arena, go-kart track, and countless other amenities and attractions - became an attraction unto itself at Canada Place on Sunday.  Kim Whibbs made her way downtown to get an up-close look at the massive vessel. Her conclusion?  "Too big," she said. "It's too big for my taste."
For the cruise ship industry, however, ships the size of Norwegian Bliss are becoming increasingly desirable. That poses a problem for ports like Vancouver, according to Barry Penner, a lawyer who advises the industry group Cruise Lines International Association.
"I think it's now $50 billion U.S. on the order books for new cruise ships being built," Penner said. "Many of those new ships simply won't be able to make it to Vancouver unless we develop another terminal or another option to get them here."  Penner said the cruise ship industry supports 15,000 jobs in British Columbia annually, and most of those are created by ships calling a B.C. city their home port.
"When we are able to home port a ship in Vancouver, it's very beneficial to the entire economy because of all the supplies that the ship needs in addition to the passengers and crew that come here and spend money in the city," Penner said.
Norwegian Bliss has its home port in Seattle, where it has stopped 16 times this summer. On one of those occasions, Celia Nishimura was on board for an industry tour.
A travel agent at Maritime Travel in White Rock, Nishimura made her way downtown Sunday to see the ship she spent three nights on earlier this year.
She said the experience was a great opportunity to get to know the experience her agency would be selling, but that she would like to be able to offer that experience from Vancouver as well.  "We've got a beautiful city and we'd love to be able to showcase our city," Nishimura said. "It would be nice to be able to have these larger ships come in and out of Vancouver."  Penner said there are a variety of options Vancouver could pursue to accommodate larger cruise ships like Norwegian Bliss. One option would be to raise the Lions Gate Bridge by several metres, he said.
Another possibility would be to build a new cruise ship terminal outside the Burrard Inlet. Penner said many ports of call around the world are located well outside the nearest major city. Whatever the solution, it would require buy-in and investment from multiple levels of government to make it a reality, he said.
"We would like to see the port and the province and the federal government work together to develop a plan so we could have larger ships like this call Vancouver their home port, not just a whistle stop once in a while," Penner said.  Such a change would have significant economic benefits for the city, but it would also bring an increase in congestion. Over the weekend, three other cruise ships docked in the city in addition to Norwegian Bliss, bringing about 16,000 people into the city.
By CTV Vancouver
Re-posted on CruiseCrazies.com - Cruise News, Articles, Forums, Packing List, Ship Tracker, and more
For more cruise news and articles go to https://www.cruisecrazies.com