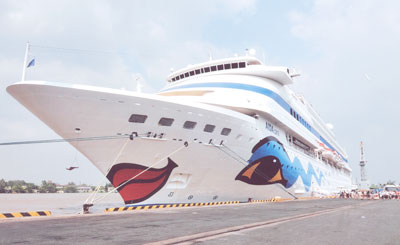 Although Ho Chi Minh City has a distinct advantage to attract international cruise ship visitors, this market has not developed fully because of lack of infrastructure and demand for high quality of service.
A cruise ship brings visitors to Vietnam. (Photo: Sggp)
The country has only a few travel companies that have the resources to receive a large number of cruise ship tourists arriving on luxury liners.
Most of these companies don't have tour guides speaking different languages such as Italian, German, Spanish, Japanese and Russian to be able to receive about 3,000 cruise ship passengers all at once.
Rich cruise passengers can also have unexpected demands such as luxury cars to transport them around the country and sometimes even small luxury aircraft to fly them to neighboring countries.
Even small handcrafted souvenirs have failed to attract foreign tourists because of lack of design quality and variety. Foreign visitors are interested in traditional handicraft products and are willing to spend money provided they are appealing and attractive.
Vietnam has not yet developed a tourism pier to receive big cruise liners that presently have to dock at trading ports.
The Vietnam National Administration of Tourism (VNAT) chose sea tourism as one of its top priorities in its draft National tourism development strategy for the period 2010-2020.
Ho Chi Minh City also plans to develop riverside tourism and build a part of the Saigon Port into a modern international luxury tourist pier to lure more cruise ship liners.
According to the Statistics Bureau, the country received more than 224,000 cruise ship passengers in 2007, while there were only 25,000 cruise tourists in the first nine months of this year.