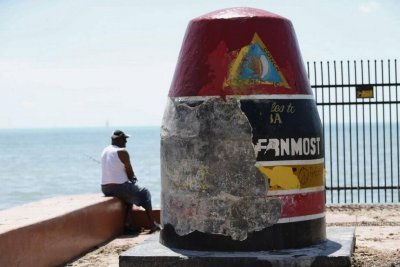 When the Empress of the Seas reached dock in Key West shortly after noon on Sunday, Traci Brewington found a ghost town.
The 46-year-old Indiana woman had been to Key West several times before, but as she and about 900 aboard Royal Caribbean's oldest and smallest cruise ship arrived, the Southernmost City was devoid of its usual joyful noise and waves of people.
What she found was silence and empty streets.
The Empress was the first cruise ship to return to the Keys after Hurricane Irma hit earlier this month. Another Royal Caribbean ship, Enchantment of the Seas, was originally scheduled to arrive in Key West on Sunday but went to Freeport in the Bahamas instead.
Brewington said she had been planning this trip with her husband since March but didn't think they would make it to the Keys after the storm. After Irma hit, Royal Caribbean canceled all stops to the island.
But on Thursday, she received an email from the cruise company indicating the stop was back on the itinerary. That left Brewington a bit uneasy.
The Keys were hit hard by Irma — homes and boats were destroyed — but Key West escaped the worst. But there was damage, a curfew and lack of power and water for days.
"I'm honestly not sure how I feel about being here when so many people are trying to recover," she said.
Instead, she decided to spend her six hours in port volunteering with Florida Keys SPCA, a nonprofit animal rescue organization. She said at least two others from the cruise also were planning to spend the day volunteering.
She said she felt it was the right thing to do after Irma, and arranged it ahead of arrival.
"You would want somebody to do that for you, if you were in that situation," she said.
As she headed off to volunteer, her husband and other passengers set out for Duval Street, the famous Gulf-to-Atlantic stretch of bars, souvenir shops, cafes and clubs.
Curfew is lifted in Key West and water is flowing, so many businesses are open and ready for tourists.
Among the open bars are Gilleran's 801 Bar, The Speakeasy Inn, and The Porch. At Sloppy Joe's, a Key West mainstay since 1933, the ship's port of call offered a test run for even bigger crowds down the line, manager Charles Fraga said. The bar opened at noon Sunday, with a full staff of about 20 people and local musician Rolando Rojas ready to greet the cruisers.
"We're definitely hoping that this is the start to the return to things as they were," Fraga said.
Fraga said he came back from a wedding on Tuesday to find only minimal damage to the bar, made famous by author Ernest Hemingway. Employees had put sandbags against the doors, keeping water from seeping in.
The next day, Sloppy Joe's was back open, serving mainly to locals.
But it's been quiet without visitors, he said. The turn of events brings him back to the 1980s, before Key West became a major tourist destination. When he came back on Tuesday, less than half of the Duval Street businesses were open. Now, he said, most are, with more to come soon.
Fraga said for most businesses, it's simply a matter of making sure employees' families are safe so everyone can return to work.
For those wanting to visit Key West, Fraga has one message: Welcome back.
"We can't wait to show them that we're still here and we're open for business," he said. "There might be a little mess but that's OK. We're Key West. It's character, it's like a scar."
By Caitlin Ostroff, Miami Herald