Crazie Cruiser: The Cruisin' CruiseCrazies Mascot
She travels the world from ship to ship with CruiseCrazies members.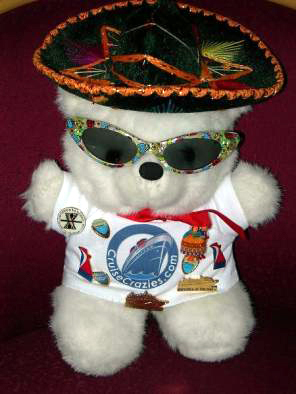 She takes up little room, is quite the conversation piece, and is always ready to cruise on any ship with any type of accommodations.
It's very simple: Take her along, buy a ship's pin or a pin from one of the ports, take pictures of her around the ship and in port, and ship her back within 3 days of your return home. All of Crazie's cruise reservations and travel arrangements are coordinated by Mary Lou, aka cruisetarp. For any questions relating to Crazie, please contact her directly.
The opportunity to take Crazie on your next cruise is on a first come, first serve basis so if you're interested,
contact cruisetarp
and reserve Crazie for your next cruise!
View Crazie's Dedicated Photo Album