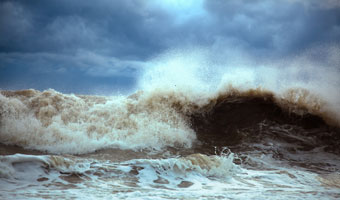 (12:35 p.m. EDT) -- Bad weather in the Caribbean has forced Carnival to alter itineraries for five ships this week. While Carnival cruisers are adapting to new ports and schedules, NCL reports that it has not made adjustments to any Caribbean cruises. Royal Caribbean canceled one port call today.
Carnival spokesman Vance Gulliksen told x that the changes are due to "a spate of really horrible weather in the Caribbean." For example, several ships could not call in Grand Cayman yesterday or today because tenders couldn't operate in the rough seas. But there's no need to get worried about hurricanes yet. According to the National Hurricane Center, "cloudiness and showers have increased in the Western Caribbean Sea" but the system has about a 10 percent chance of becoming a tropical cyclone in the next few days.
Here's a list of the impacted ships and their revised itineraries:
Carnival Freedom: The ship departed Fort Lauderdale on Sunday for a six-night cruise. Instead of calling at Grand Cayman on Wednesday and Ocho Rios on Thursday, the ship instead visited Montego Bay yesterday, with a sea day today followed by a call in Key West tomorrow.
Carnival Imagination: The ship departed Miami on Monday for a four-night cruise. Instead of calling in Key West Tuesday and Cozumel Wednesday, the ship sailed for the Bahamas, with an overnight in Nassau on Tuesday and a visit to Freeport on Thursday.
Carnival Inspiration: The ship departed Tampa on Monday for a five-night cruise. Instead of calling in Grand Cayman Wednesday and Cozumel Thursday, the ship overnighted in Cozumel on Wednesday for a two-day call.
Carnival Ecstasy: The ship departed New Orleans on Monday for a five-night cruise. The planned call on Progreso on Wednesday was replaced with a sea day.
Carnival Conquest: The ship departed Galveston on Sunday for a seven-night cruise. The planned call on Grand Cayman today was replaced with a sea day.
Royal Caribbean's Freedom of the Seas was also forced to miss Grand Cayman today and spent the day at sea instead. NCL's Norwegian Pearl did call in Grand Cayman, an NCL spokeswoman told us, but instead of tendering to Georgetown, the ship was sent to Spotts Bay on the south side of the island.
--by Erica Silverstein, Features Editor