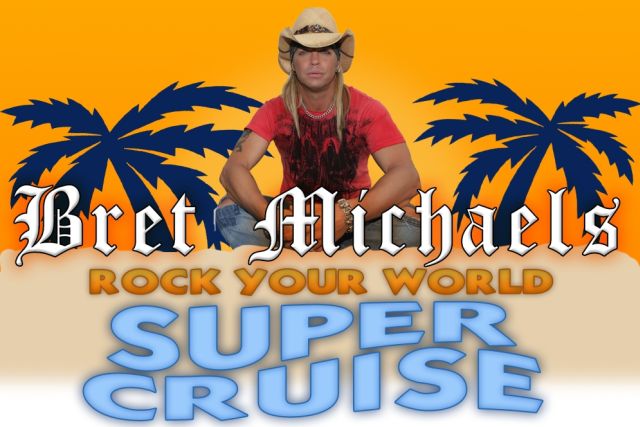 Rock legend and reality TV star Bret Michaels is teaming up with Shoreline Charters to host the "Rock Your World Super Cruise," a four-day rock 'n roll adventure on the high seas taking place aboard the Carnival Destiny in fall 2011.
Fans will have an all-access pass as they enjoy musical exclusive performances and meet and greet opportunities – along with a few surprises — during the action-packed cruise, which will operate round-trip from Miami Nov. 10-14. Ports of call include Key West, Fla., and Cozumel, Mexico.
Highlighting this once-in-a-lifetime experience will be an unforgettable performance by Bret Michaels and his band in the Carnival Destiny's 1,500-seat show lounge. Michaels will also be "out and about" to mix and mingle with fans, answer questions and sign autographs.
"I have wanted to do something like this for so long and let me tell you this cruise will be absolutely epic, one for the record books. I really couldn't ask for anything better than having the chance to kick back, rock out, and spend some quality time with all of my fans. The past year has been such a crazy one for me — one that I never could have gotten through without the support of my family, friends and fans. I'm thrilled to have the chance to unwind and have a good time with all of them. And one piece of advice: come with your cameras ready because this is a once-in-a-lifetime event you won't want to forget," said Michaels.
In addition to spending four fun-filled days with one of rock's biggest stars, Rock Your World Super Cruise participants can enjoy all that the Carnival Destiny has to offer: mouth-watering cuisine, including complimentary 24-hour pizza and stateroom service, along with full-casino gambling, a 15,000-square-foot health and fitness center, 16 lounges and bars, and four swimming pools – one with a 214-foot-long water slide.
Rates start at $829 per person based on double occupancy.