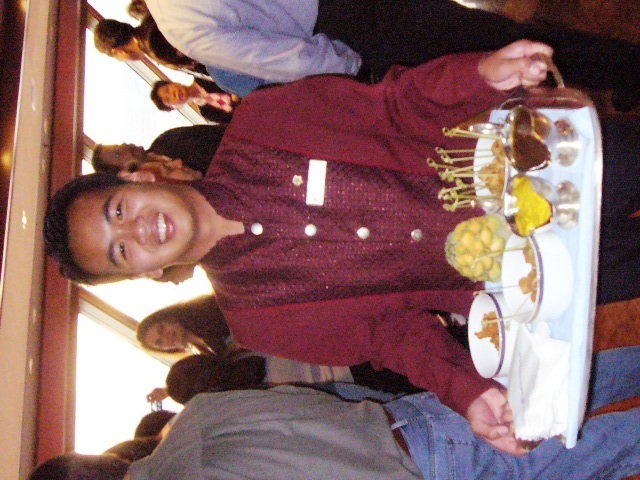 World Ocean & Cruise Liner Society (WOCLS) members named Holland America Line the Best Overall Cruise Value for the 18th consecutive year for its premium cruise experience.
"To again be lauded by the members of the World Ocean and Cruise Liner Society is an honor and we're grateful that our commitment to continuously invest in our product is recognized by such an esteemed group of travelers," said Richard D. Meadows, CTC, executive vice president, marketing, sales and guest programs. "Unique programs such as Signature of Excellence and exclusive partnerships with renowned names like Le Cirque, Microsoft and Food & Wine Magazine enable us continually to add value to our product and brand, and our guests appreciate that."
WOCLS is composed of thousands of experienced cruisers who take, on average, two cruises a year. The society reviews all cruise lines annually, and in its monthly publication, Ocean and Cruise News, noted that "One of the main reasons why Holland America Line continues to capture our yearly honor for the best overall value in cruises is that it puts forth an extra effort to offer a number of features that other cruise lines believe are not necessary or are too costly."
Thomas Cassidy, editor of Ocean and Cruise News, wrote, "Some of the elements that combine to make Holland America Line the best overall cruise value include its ongoing fleetwide investment, called 'Signature of Excellence' enhancements, the impeccable appearance of its ships with their friendly Indonesian and Filipino crews, the extra effort to properly train and supervise staff, the more extensive choice of dinner menus in its restaurants, a variety of alternate restaurants and Lido and then all the little extras, such as canvas tote bags, hot hors d'oeuvres at cocktail time, chilled beer glasses, a no-charge ice cream bar and later lunch hours when in port. As a result, its passengers receive extraordinary value for the money they spend."
Holland America Line also received top marks from the World Ocean and Cruise Liner Society in the High-Deluxe, 5-Star, Large Ships Category during the annual Best Cruise Value Awards.
About Holland America Line [a division of Carnival Corporation and plc (NYSE: CCL and CUK)]
Holland America Line's fleet of 15 ships offers more than 500 cruises to 354 ports in 98 countries, territories or dependencies. Two- to 110-day itineraries visit all seven continents and highlights include Antarctica, South America, Australia/New Zealand and Asia voyages; a Grand World Voyage; and popular sailings to ports in the Caribbean, Bermuda, Alaska, Mexico, Canada/New England, Europe and Panama Canal.
Fleetwide, the company features Signature of Excellence enhancements, a commitment totaling more than $525 million, that showcase the Culinary Arts Center presented by Food & Wine magazine — a state-of-the-art onboard show kitchen where more than 60 celebrated guest chefs and culinary experts provide cooking demonstrations and classes — Explorations Cafe powered by The New York Times, Digital Workshop powered by Windows, teens-only activity areas and all new stateroom amenities highlighted by flat-panel TVs and plush Euro-top Mariner's Dream Beds.
World's Leading Cruise Lines
Holland America Line is a proud member of World's Leading Cruise Lines. Our exclusive alliance also includes Carnival Cruise Lines, Cunard Line, Princess Cruises, Costa Cruises and Seabourn. Sharing a passion to please each guest and a commitment to quality and value, World's Leading Cruise Lines inspires people to discover their best vacation experience. Together, we offer a variety of exciting and enriching cruise vacations to the world's most desirable destinations.