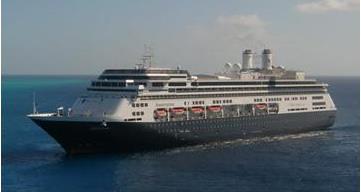 Taipei, Luxury cruise company Holland America Line made its first stop in Taiwan in about 20 years when one of its cruise liners, carrying over 1,000 Japanese tourists, arrived in Hualien Monday morning, according to a company spokeswoman.
About 1,400 Japanese tourists aboard the Netherlands-registered cruise ship MS Zaandam arrived in the eastern Taiwan port at about 8 a.m. and were taken to Taroko National Park, one of the country's most popular tourist destinations.
The luxury cruise liner, which was chartered by Japanese tour operators rather than on a regularly scheduled itinerary, set off from Kobe April 5 and stopped in Nagasaki before sailing to Taiwan.
It was to leave for Kaohsiung in southern Taiwan later Monday before heading back to Kobe, the spokeswoman said.
The cruise line had planned to include Taiwan among its destinations in 2009 but later dropped the idea due to restrictions on foreign ships sailing between China and Taiwan.
It was unclear if the latest charter would encourage the inclusion of Taiwanese ports in Holland America Line's future itineraries.
The stopover was also a milestone of sorts for Hualien and Taiwan in general as local officials have made efforts to draw international cruise lines to the island, including setting up facilities in several harbor cities to expedite immigration procedures and expand international cruise services.
Tourist operators in Hualien complained, however, that while several cruise liners had arrived in the port city over the years, most tourists did not stay overnight, limiting opportunities for local businesses.