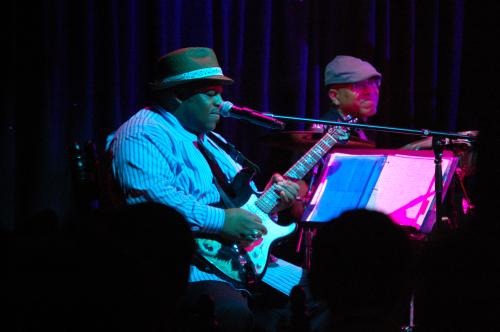 Norwegian Cruise Line announced that the popular Slam Allen Band will return to Norwegian Epic as the official Fat Cats house blues band, starting January 15, 2011. Slam Allen first appeared on Norwegian Epic during the ship's inaugural launch in June, 2010 and performed on the ship through September. With Slam at the helm, the band quickly developed an incredible rapport with guests and other entertainers on board.
"Slam became an instant hit during the launch of Norwegian Epic as his soulful music combined with his playful and inviting personality really resonated with our guests," said Richard Kilman, director of entertainment programming and development for Norwegian Cruise Line. "It's a coup for us to have him return to the ship and serve as the official house band of Fat Cats."
For more than 20 years, Slam Allen, originally from New Jersey, has been entertaining audiences around the world with his unique blend of soul and blues. For the past eight years, he has played an important role, as the lead singer and guitarist, in the legendary James Cotton Band. Music is in Allen's blood -- he got his start from his father and uncles who were known as the Allen Brothers Band. On Norwegian Epic, Allen plays a wide range of songs from B.B. King and Otis Redding to his own original music in the intimate 170-seat Fat Cats lounge six nights a week.
"When I play, people who may have never heard of me leave the show feeling like we're old friends," Allen said. "Playing on Norwegian Epic is a great way to develop relationships with people since they are there for an entire week and many come back every night."
Slam Allen will be playing in Fat Cats for the next six months. When he leaves for his month vacation in July, Allen will personally select his stand-in. Watch him in action in "An Epic Moment in Entertainment: Fat Cats Jazz & Blues Club" on Norwegian's YouTube channel.
About Norwegian Cruise Line
Norwegian Cruise Line is the innovator in cruise travel with a 44-year history of breaking the boundaries of traditional cruising, most notably with the introduction of Freestyle Cruising which has revolutionized the industry by allowing guests more freedom and flexibility.
Today, Norwegian has 11 purpose-built Freestyle Cruising ships, providing guests the opportunity to enjoy a relaxed cruise vacation on some of the newest and most contemporary ships at sea. The Company has reached an agreement for two 143,000-gross ton vessels for delivery in 2013 and 2014.
Norwegian's largest and most innovative Freestyle Cruising ship, Norwegian Epic, debuted in June 2010. Norwegian Cruise Line is the official cruise line of Blue Man Group, debuting for the first time at sea on Norwegian Epic, as well as the official cruise line of Legends in Concert, Second City® Comedy Troupe, Howl at the Moon Dueling Pianos, Gibson Guitar, and Nickelodeon, the number-one entertainment brand for kids. Cirque Dreams" & Dinner is also featured on board Norwegian Epic as the first show of its kind at sea under a big top.