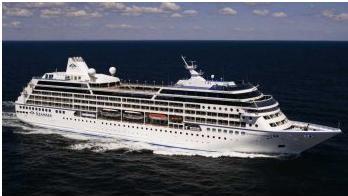 MANILA (Reuters) - A cruise ship temporarily stranded off the south Philippines coast after a fire disabled engines, injuring five crew, is heading for an eastern Malaysia port under emergency power, the Philippines coast guard and the ship's owner said on Saturday.
Coast Guard Captain Perfecto Eden said the Azamara Quest, carrying 600 passengers and 411 crew and which made a port call in Manila on Wednesday, is now on its way to Sandakan port, in the eastern Malaysian state of Sabah after the fire was put out on Saturday.
"All passengers are safe," Eden told reporters about the status of the Azamara Quest, a vessel operated by Miami-based Azamara Club Cruises.
A Philippine Navy ship is escorting the cruise until it crosses the Malaysian maritime border, Eden added.
The rest of the cruise, carrying mainly Americans and Western Europeans, has been canceled the company said, adding that "the captain deemed it necessary to muster all guests at their assembly stations."
"Unfortunately, five crew members onboard the ship suffered smoke inhalation during the fire," the company, part of Royal Caribbean Cruises Ltd., said in a website statement.
"One crew member is more seriously injured and requires additional and urgent medical attention that can only be provided in a hospital."
The fire at sea was the latest in a string of cruise ship accidents. Thirty-two people died when the Costa Concordia ran aground and capsized off the western coast of Italy in January and a fire on the Costra Allegra left the ship stranded in waters patrolled by pirates in the Indian Ocean for three days in February.
Both ships were run by Costa Crociere, SpA, a subsidiary of Carnival Corp., the world's largest cruise operator.
The Azamara Quest was on a 17-night journey and had departed Hong Kong on Monday with port calls to Manila, Balikpapan (Borneo), Palapo (Sulawesi), Benoa Bali, Semarang and Komodo in Indonesia, Malaysia and Singapore.
Azamara Club Cruises Chief Executive Officer Larry Pimentel is scheduled to fly to Sandakan to meet passengers, the company said.
"Until then, we will be working with our guests to determine how we can best assist them with next steps and travel arrangements," the company said.