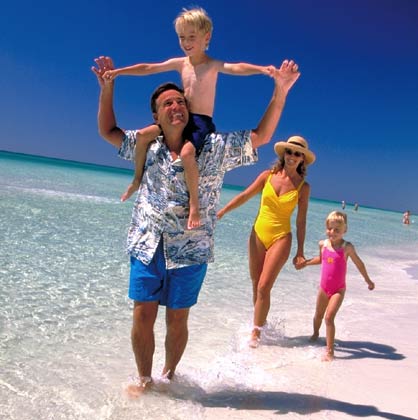 So you love your kids, and you love to cruise. Now you're thinking of taking the kids with you instead of leaving them with the grandparents, but you're nervous about it. Here are a few ideas that can help to make this upcoming cruise one of your best family vacations, ever!
Include the kids: Let's face it, kids are creatures of habit. They thrive on routines. Could you imagine showing up at an unfamiliar port city and seeing a massive ship staring you in the face, but you had no idea where it was going to take you? Include your kids in the planning! The pre-cruise planning is always a big part of the fun, so include your kids in your searches for shore excursions and your planning for port cities. If the kids are old enough to surf the 'net, delegate research subjects to them. If they're too small, start showing them photos of the ship and the port cities, so that they are somewhat familiar with the sights. Not only will this help build their excitement, it will help to reassure them during this break from their routine.
Be realistic: No, this will not go 100% according to plan. Things never do! But instead of getting caught up in the "why," focus instead on the solution. When kids see mom and dad staying calm, they almost always follow suit. If you are late to your dinner seating, don't let it ruin your evening! Instead let the kids pick their own food at the yummy buffet. Be prepared for all scenarios ahead of time and always travel ashore with your passports, because cruise ships will leave behind a late family. Know the important phone numbers to have in each port and be prepared. A prepared parent is a calm parent. Calm parents equal calm kids.
Mommy and Daddy need time, too: Decide on a ship with a great kids club. Disney, Royal Caribbean, Princess, and Carnival are all known for their stellar kids clubs and planned activities for children and teens, while Celebrity and Holland America are known for a more mature clientele. Going to the club is something your kids will love to do, while you and your spouse get that time for a quiet dinner or a few hours of peace at the pool. And PS - time apart is just as precious as time together. Your kids will love hanging out with their new friends as much as you will enjoy your quiet time with your spouse.
Be a kid, yourself: Play with your kids! Take them to the pool, go down the waterslide with your daughter, challenge your son to a rock climbing contest. Forget the parent mode for a while and be a kid with your kids. Chances are you'll have more fun than you've had in a long while, and you just may get even closer as a family than you were before.
Remember bedtime: Your kids will be tired after all of the fun they've experienced during the day. Remember to break for naps and try to keep a regular bedtime routine. Even though they will strongly disagree, kids need more sleep than adults do. Sleepy kids always equal cranky kids, and cranky kids equal melt-downs. Remembering to keep everyone well rested - and hydrated! - will cut the melt-down probability to almost nothing while ensuring your cruise photos will be full of smiling and happy faces from everyone!
Vacations are exciting, adventurous, and frankly a little scary! Preparing yourself and your kids ahead of time, and remembering to expect the unexpected, will pave the way for smooth sailing and great memories to last a lifetime!
Written by Stacey Redish (aka StaRed), Member of CruiseCrazies.com