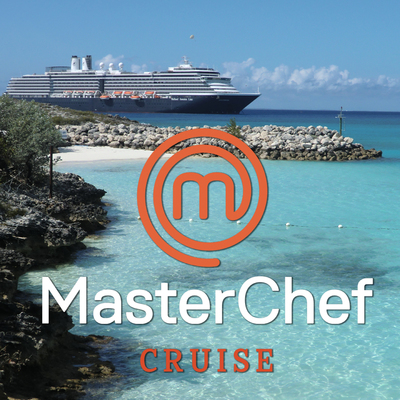 FOR IMMEDIATE RELEASE
MasterChef Cruise Announces Updated Programming Slate Including Entertaining and Theatrical Offerings For A Week- Long Culinary Adventure At Sea
All-new events on the week-long culinary adventure at sea include Nacho Battle, Cupcake Tower Battle, MASTERCHEF Classic Relay Race Challenge and more
Expanded programming slate to include live stage demonstrations hosted by the MASTERCHEF All-Stars MASTERCHEF Season Seven winner (To be announced on the

 

Sept. 14

 

finale), Claudia Sandoval (MASTERCHEF Season Six winner), Addison (MASTERCHEF Junior Season Four winner), Luca Manfé (MASTERCHEF Season Four winner), Elizabeth Cauvel (MASTERCHEF Season Five runner-up, Leslie Gilliams (MASTERCHEF Season Five Contestant), Zac (MASTERCHEF JUNIOR Season Four contestant) and Sean (MASTERCHEF JUNIOR Season Two contestant)
MasterChef Cruise announced today the all-new expanded slate of entertaining and theatrical programming on the seven-day cruise sailing through the Caribbean November 6-13, 2016. Guests have the opportunity to expand their culinary skills and a chance to cook with their favorite MASTERCHEF All-Stars in live theatre demonstrations during the culinary adventure at sea.
Presented by Endemol Shine North America, producers of the television series, and events company Life Journeys, the MasterChef Cruise will satisfy guests' appetites with culinary events and demonstrations featuring the MASTERCHEF All-Stars who are set to appear, including MASTERCHEF Season Seven winner (To be announced on the Sept. 14 finale), Claudia Sandoval (MASTERCHEF Season Six winner), Addison (MASTERCHEF Junior Season Four winner), Luca Manfé (MASTERCHEF Season Four winner), Elizabeth Cauvel (MASTERCHEF Season Five runner-up), Leslie Gilliams (MASTERCHEF Season Five Contestant), Zac (MASTERCHEF JUNIOR Season Four contestant) and Sean (MASTERCHEF JUNIOR Season Two contestant
In addition to previously announced programming such as intimate dining experiences, a Mac-N-Cheese @ Sea Showdown, Iconic Mystery Box Challenges as seen on the show, Meet-and-Greets, Book Signings and an All Stars Finale "Best of the Best" Competition, guests will enjoy a number of new entertaining challenges and exciting demonstrations based on the full schedule available on the MasterChef Cruise website:
Taste Test Trivia:

 

If you're lucky, you could be chosen to test your own skills in our first

 

Taste Test Trivia

 

competition. 

Luca's Pasta 101: 

Learn from the pro as Luca demonstrates key steps to making the perfect pasta.

Simple Sushi By Sean: 

It's not as hard as you think!  Watch as junior contestant Sean walks you through simple and fun ways to build and serve classic sushi favorites.

The Soul of Mexico With Claudia:

 Claudia will inspire you as she dazzles us with her creations inspired by heritage, family, friends and history.  A true labor of love!

Grill Master Leslie:

 He knows his way around a grill and during this demo you'll get his tips and tricks to kick your grilling game up a notch!  

Designing a Dinner Party with Elizabeth: 

Food preparation is most important but sophisticated details and playful touches can help you bring life to your next dinner party. 

Nacho Battle: 

It's your turn as we challenge a few audience members to build the best nachos to impress Claudia, Sean and Zac.

A True MasterChef Dish:

 

Our Season 7 Winner will guide you through a quick and easy way to turn a family favorite into a MasterChef masterpiece.

The Art of Decorating with Addison & Sean:

 

Let these juniors inspire your creativity as they share beautiful and fun ways to elevate your baking game!

Relay Race: 

Working together is the key to success.  Watch as our All-Stars compete in an exciting relay race culinary competition.

Cupcake Tower Battle:

 

Can you build the ultimate cupcake tower in less than 30 minutes?
The MasterChef Cruise will also feature premium VIP experiences:
Culinary Arts Center Cooking Demo with Luca + Kitchen Tour:

  Get up-close with Season 4 winner, Luca as he demonstrates how to make the perfect pasta.

Culinary Arts Center Cooking Demo with Junior Addison + Kitchen Tour:

 

Follow MasterChef Jr Season 4 winner, Addison, as she guides you on how to build an impressive and delectable Croquembouche.

Lunch with Elizabeth:

  Relish in a charming and delicious lunch menu prepared by Season 5 All-star Elizabeth.

Culinary Arts Center Cooking Demo with Claudia + Kitchen Tour

: Learn hands-on from our MasterChef Season 6 winner Claudia, her technique for making the classic Mexican favorite, homemade Tamales.

Culinary Arts Center Cooking Demo with Elizabeth + Kitchen Tour:

 

MasterChef All-star Elizabeth, will show you how to prepare a tasty flatbread that's the perfect recipe for date night!

Luca's Italian Masterpiece Dinner:

  Delight your palate with an extravagant Italian tasting menu created by Season 4 winner Luca, featuring his favorite family recipes and other delicious culinary surprises. 

MasterChef Junior Restaurant Takeover by Addison, Zac and Sean:

 

Our talented MasterChef Juniors are ready to have some fun in the kitchen as they create their own Asian-inspired menu bound to be delicious and delightful.

Lunch with Claudia:

 

Enjoy an elevated Mexican Street Food Fiesta inspired by the family recipes and culinary imagination of our Season 6 winner, Claudia. 
All programming is subject to change.
The seven-day cruise sets sail November 6-13, 2016 on board Holland America Line's Nieuw Amsterdam. Embarking from Fort Lauderdale, FL, it will visit Grand Turk, Turks and Caicos; San Juan, Puerto Rico; Philipsburg, St. Maarten; and Half Moon Cay, Holland America Line's award-winning private island in the Bahamas.
For additional details and the full MasterChef Cruise itinerary visit www.masterchefcruise.com. For additional information about the onboard event schedule visit http://www.masterchefcruise.com/schedule/.
Further information:
Julie Holland
Endemol Shine North America
ABOUT LIFE JOURNEYS
California-based Life Journeys Inc., is the nation's premier global travel tour production company.  Life Journeys brings content to life, creating an exciting event platform that will immerse your fans/audience into your brand, message and products. Life Journey's vision is to bring together an array of authors, celebrities, speakers, musicians and organizations that inspire, motivate, educate, entertain and empower participants by creating a targeted unique brand of customized, one-of-a-kind event productions on Cruise ships, all-inclusive Resorts and Multi-City tours worldwide. 
ABOUT ENDEMOL SHINE NORTH AMERICA
Endemol Shine North America delivers world-class content and compelling storytelling to multiple platforms in the U.S. and across the globe. Endemol Shine North America is part of Endemol Shine Group, the newly launched global content creator, producer and distributor with a diverse portfolio of companies that are behind some of the most prominent hit television formats and series in the world.
Its Endemol Shine Studios division develops and produces original scripted television programming in the U.S. for global exploitation and Endemol Shine Latino oversees all Spanish-language sales and development in both the U.S. and now across all of Latin America. Subsidiary production companies include Authentic Entertainment, Original Media, True Entertainment and 51 Minds Entertainment. In addition, Endemol Shine North America has a strategic partnership with Ryan Seacrest Productions.
Endemol Shine Group's companies in North America are behind such hit series as Big Brother (CBS), The Biggest Loser (NBC), Hell on Wheels (AMC), Ink Master (Spike), Kingdom (AT&T Audience Network), MasterChef (FOX), MasterChef Junior (FOX), Restaurant Startup (CNBC), Swamp People (History), The Real Housewives of Atlanta (Bravo), Steve Harvey (NBCU), T.I. & Tiny: The Family Hustle (VH1), Steve Austin's Broken Skull Challenge (CMT), Billion Dollar Buyer (CNBC) and upcoming Hunted (CBS), Superhuman (FOX), The Almost Impossible Game Show (MTV), and I'm Dying Up Here (Showtime).
Endemol Shine Beyond USA is the digital studio of Endemol Shine North America, focused on developing original series across a wide array of platforms. In partnership with Michelle Phan, Endemol Shine Beyond is home to the ICON Network, a female-driven digital network focused on beauty, fashion, comedy, relationships, wellness and travel. ICON is available on YouTube, Facebook, Instagram, Snapchat and many other platforms. Endemol Shine Beyond produces numerous original digital-first series including lifestyle comedy "Pretty Little Pranksters," "Beauty Newbies," as well as eSports hit global franchise "Legends of Gaming.
Edited by Jason