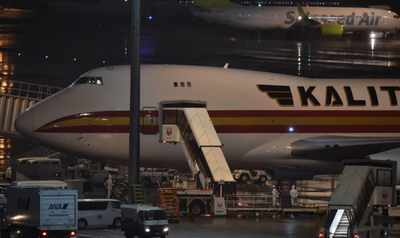 If you are an American tourist who has spent two weeks quarantined aboard a cruise ship off Japan because of the risk of contagion from the COVID-19 virus, aka the coronavirus, you are probably anxious to return to the U.S — but being herded onto a cargo plane, with people who may have the virus, may not be your preferred means of doing so. That's what happened to more than 300 Americans who left Japan on Sunday aboard two chartered Boeing 747 freighters, and who now have to endure 14 more days of quarantine at military bases in the U.S.
When they left the Diamond Princess cruise ship in Yokohama, Japan, to be transported to Tokyo Haneda airport in a convoy of buses, they may have assumed the worst was behind them. According to a report by CNN, which spoke with some of them, what awaited them was another ordeal
Waiting for them at Haneda were two Boeing 747-400 freighters chartered by the U.S. government from Kalitta Air, a cargo operator that's flown evacuation missions before.
Hundreds of people aboard the ship had tested positive for coronavirus, and so had 14 of the evacuees aboard the 747s. According to CNN, U.S. officials learned of those 14 cases only as people disembarked from the buses at the Haneda airport. Those 14 people were isolated onboard the planes, but it's unclear with what degree of effectiveness. The New York Times said the barrier between passengers who had tested positive and everybody else was just plastic sheeting.
The flights on the 747 freighters were no picnic, some passengers told CNN. Evacuees were onboard the cargo plane for 10 hours on the first leg from Tokyo to Anchorage, where the planes refueled before continuing to their final destinations in California and Texas. The 747s were outfitted with temporary seats and makeshift bathrooms. A health official told passengers to "bring extra layers" as the converted cargo 747s have less insulation than typical passenger jets. The planes don't have windows, either.
Adding to the ordeal, people onboard the planes said they felt that the evacuation was a mess. The plan was initially for Americans who had tested positive for coronavirus to remain in Japan. 61 Americans who tested positive aboard the Diamond Princess remain on board as of this writing, in fact.
As for why cargo jets were chosen over regular airliners for the evacuations, one major reason could be the relative ease of sanitizing a cargo jet, plus a peculiarity of the 747 which makes it ideally suited for evacuating potentially contagious people. Its upper deck, where the cockpit is, can be closed off from the passengers on the main deck, so the flight crew need not come into contact with possibly contagious people.
By Liz Hund, The Points Guy
Re-posted on CruiseCrazies.com - Cruise News, Articles, Forums, Packing List, Ship Tracker, and more
For more cruise news and articles go to https://www.cruisecrazies.com