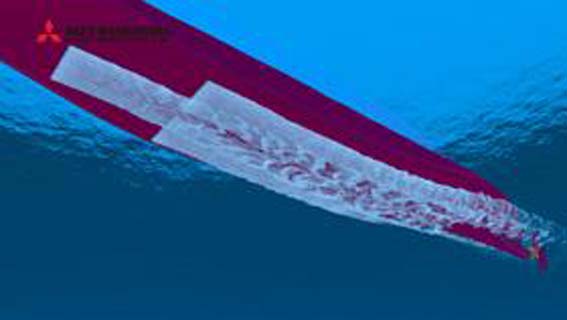 Carnival Corporation's German subsidiary AIDA Cruises has two ships on order that will be floating on air. The two 125,00 GT passenger ships each with a capacity of 3,250 passengers is presently under construction at Mitsubishi Heavy Industries (MHI) Nagasaki Shipyard & Machinery Works, Japan, with completion dates scheduled for the second quarter 2015 and second quarter 2016.
The air bubbles system to be used is the Mitsubishi Air Lubrication System (MALS) and uses patented technology whereby high efficiency blowers bleed air bubbles through small holes in the ship's bottom to produce a carpet of air which reduces friction. Part of the know-how involves the configuration of the air outlet points to achieve maximum friction reduction at optimized air-blow volume.
Initial tests of this system started in 2010 on the heavy lift module carrier Yamatai whose wide shallow draft hull form made it an ideal choice. The friction reduction due to MALS produced a saving in fuel consumption in the region of 13 per cent. In this first application on a cruise ship, MHI predict a fuel saving of around 7% for the two AIDA vessels.
The AIDA cruise ships will use a diesel electric propulsion system driving two ABB Azipod XO2100 azimuth thrusters each with a rated output of 14 MW.
By Keith Henderson, Maritime Propulsion