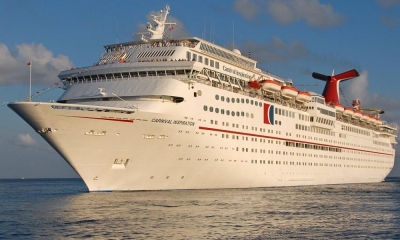 Carnival Cruise Line, Carnival Corp.'s flagship line, announced it will sell two of its ships, the Carnival Fantasy and the Carnival Inspiration, as a part of the company's overall fleet reduction. 
In addition to selling two ships – but not included in the overall reduction – the Carnival Fascination and the Carnival Imagination will move to a long-term layup status, meaning they will be out of operation but will remain in the fleet. There are no plans or dates determined to resume operation, according to a release provided by line representative Vance Gulliksen. 
The removal of the four ships from Carnival's rotation of ships means puzzle-like schedule shifts for many of Carnival's vessels that will be operating.
Carnival Sensation will move to Mobile, Alabama, from Miami and will take on Carnival Fascination and Carnival Fantasy's previously scheduled itineraries. Guests scheduled to sail on those two ships are being accommodated on the Sensation.
Carnival Sunrise will move to PortMiami from Port Everglades to assume Carnival Sensation's previously scheduled itineraries. Guests booked to sail on the Sunrise's four- and five-day itineraries will be automatically moved to sail from its new embarkation point in PortMiami.
The Carnival Fascination itineraries leaving from San Juan and Barbados have been canceled for 2020 through 2021.
The Carnival Imagination and Carnival Inspiration itineraries from Long Beach have been canceled through April 19, 2021. 
Carnival Panorama will continue its seven-day itineraries from Long Beach, California, and Carnival Miracle will move to operate itineraries from San Diego to Baja Mexico.
Carnival Radiance will move to Long Beach after its renovation is complete and is expected to arrive in April 2021 to begin Baja Mexico itineraries that had been run by Carnival Imagination and Carnival Inspiration previously. 
Guests booked on Carnival Imagination and Carnival Inspiration after April 22, 2021, will sail on Carnival Radiance.
________________________
By USA Today, Morgan Hines (July 25, 2020)
Re-posted on CruiseCrazies.com - Cruise News, Articles, Forums, Packing List, Ship Tracker, and more
For more cruise news and articles go to https://www.cruisecrazies.com