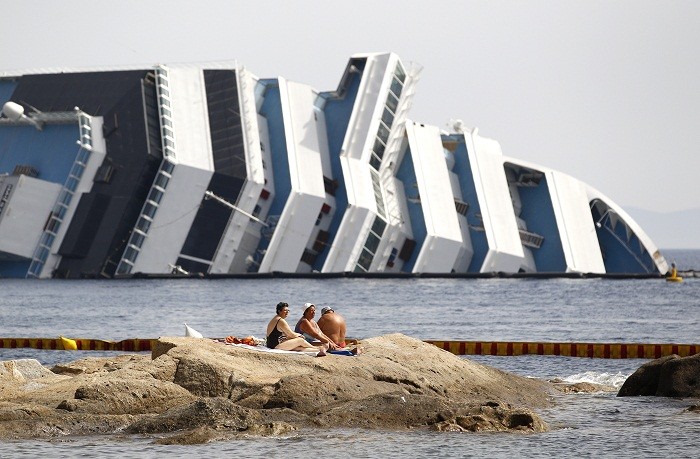 In January, the cruise ship Costa Concordia capsized off the coast of Italy, killing 32 people. Now, five months later, crews are starting to work on refloating the partially submerged ship.
Salvage crews are getting to work on the project near Isola del Giglio, which is expected to take a year. In an unprecedented operation, crews will upright the 114,000-ton ship and tow it out of the area to be used for scrap. The project is expected to cost more than $300 million, the Daily Mail reports.
On Tuesday, engineers moved a barge next to the liner and removed the ship's radar from the upper deck. In the next few week, crews hope to remove the ship's swimming pool slide, Reuters reports. A cage will be built around the 951-feet-long ship so that cranes can brought in and used to straighten out the massive cruise liner. Crews hope to have it up-righted by January.
Despite the work going on, tourists and beach-goers are not deterred from sunbathing on the beaches of the popular vacation spot, Isola del Giglio. Some people are even swimming around the waters of the wreckage. However, residents would like the ship to be removed as soon as possible to get rid of the evidence of what happened off the coast of their land.
On January 13, 4,000 passengers and crew were on the Meditteranean cruise when it struck a rock which tore a hole in the side of the Costa Concordia.
They mayor of Giglio, Sergio Ortelli, said that the rock, once removed from the side of the ship in a $60,000 project, will be turned into a memorial for the 32 people who lost their lives in the disaster.
Ortelli told the Daily Mail, 'The Costa Cruises company has said this is what they want to happen and it is also what we want to happen. It will be removed and turned into a memorial of some sorts so that the island can pay tribute to those who lost their lives." Ortelli was not sure where exactly the memorial will be placed. "What happened that night is something Giglio will never forget and the rock will be a fitting memorial."
Captain Francesco Schettino, the captain of the ship, who fled the scene early, is still being investigated for the crash. He faces charges such as causing the crash, multiple manslaughters, and abandoning ship without informing maritime authorities of the situation, the Daily Mail reported.
By Katie McFadden, Travelers Today