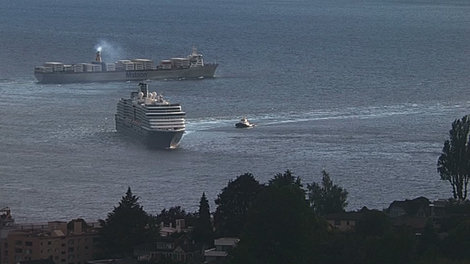 The Holland American Westerdam cruise ship departed from Pier 91 Sunday morning after a fire in one of the boiler rooms had forced it to turn around and head back to Seattle Saturday evening.
The ship was on its way to Alaska when the fire broke out.
The fire was put out and a tugboat escorted the ship back to Pier 91 where it could be inspected.
There are 2,086 guests and 798 crew onboard. No injuries were reported.
Holland America released an updated statement Sunday morning prior to departure:
"At approximately 5:15 p.m. local time on June 28, a small fire occurred in one of the boiler rooms onboard ms Westerdam after sailing from Seattle at 4:00 p.m. on a scheduled departure. The fire was quickly extinguished. All guests and crew are safe.
Out of an abundance of caution and in coordination with the United States Coast Guard, the ship returned to dock in Seattle, arriving alongside at 8:00 p.m. local time. The ship returned to port under its own power and all onboard hotel systems and guest services were fully operational at all times.
An assessment was completed and the ship was cleared to sail by both the U.S. Coast Guard and Lloyd's Register, the classification society for the vessel. In preparation for sailing, we have taken some additional precautionary repair measures that delayed our departure time longer than anticipated. However, the ship is still scheduled to sail this morning on the revised itinerary plan shared with guests onboard, which unfortunately cancels the port call in Sitka, Alaska.
Guests will receive an onboard credit of US $250 per stateroom, as well as a Future Cruise Credit equal to 25% of the base cruise fare they paid for the cruise.The 82,348-ton Westerdam was beginning a 7-day roundtrip Alaska cruise. There are 2,086 guests and 798 crew onboard."
By KING 5 News
For more cruise news & articles go to http://www.cruisecrazies.com/index.html
Re-posted on CruiseCrazies.com - Cruise News, Articles, Forums, Packing List, Ship Tracker, and more