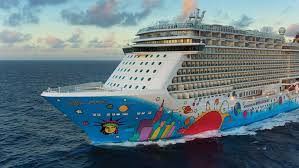 Norwegian Cruise Line's sweeping reform of its cancellation policies effective Jan. 1 will make them tougher than other brands in the contemporary segment.
In one example, guests who book a seven-day or longer cruise must now make final payment 90 days, rather than 75 days, in advance. If they cancel after that, a penalty equal to 25% of the fare will apply if the cancellation is made from 76 to 89 days before sailing. The penalties increase to 50% when made from 61 to 75 days before sailing and 75% when made from 31 to 60 days before sailing, with complete loss of payment for cancellation within 30 days.
Currently, only guests who cancel within 14 days face 100% penalties.
Marsha Rosner, owner of Rosner Travel in Marietta, Ga., said she thought 90 days was too restrictive for many customers.
"They have to have full payment so far in advance," she said. "Three months ahead, some people don't even book a cruise that early. It means they're going to have to pay the full cruise, and if something happens they lose it all. That can have a negative impact, especially if other cruise lines are only doing 75 days — unless this is going to be a norm and other cruise lines are going to follow suit."
The cancellation policies of other cruise lines vary, but several in the contemporary segment, including Carnival Cruise Line, Royal Caribbean International and MSC Cruises, require final payment 75 days out for seven-day cruises.
And their terms remain looser. At Carnival, for example, a guest canceling a seven-night Caribbean cruise from 56 to 75 days before sailing loses only her deposit, not 25% of the fare.
Likewise at Royal, although the time frame is from 57 to 74 days.
Lindsay Hardy, owner of a Travel Leaders outlet in Palm Coast, Fla., said she thought the new Norwegian policy would have little impact on her clientele.
"We sell travel insurance to 90% of our clients," Hardy said. "Travel insurance covers these penalties."
Hardy said the new policy is actually easier on agents in one way because it extends the loss-of-full-fare period from 14 to 30 days. Hardy said that if a client cancels in anything other than the full penalty period, she has to file a commission-protection notice with the travel insurer.
"If they're in a 100% penalty at 30 days and they cancel, then I don't have to go through all that extra paperwork to get my commission," she said. "So from an agent's standpoint it's actually a good thing. Our commission's protected for 30 days as opposed to 14 or 15 days."
Norwegian Cruise Line President Andy Stuart said the policy would prove to be a positive for travel agents.
"It commits bookings earlier on, protects agent commissions earlier and minimizes cancellation space from going on sale close to sailing," he said. "This new policy will allow us to continue to further drive our goal of maintaining pricing integrity."
Hardy speculated that Norwegian under Frank Del Rio, who was appointed CEO earlier this year, is adopting the cancellation policies in effect at Oceania Cruises and Regent Seven Seas Cruises, which are also part of Norwegian Cruise Line Holdings. Del Rio founded Oceania in 2002.
"I'm sure that's where it came from," Hardy said. "Those companies have had a stiffer cancellation penalty phase for quite some time."
At Oceania, a standard deposit is $750 on cruises of 15 nights or less, and guests pay a $250 administration fee for canceling from 90 to 120 days before sailing. The fee can be applied to a future cruise.
Final payment is due at 90 days, and cancellations made 76 to 90 days before sailing are penalized at 25% of the cruise fare, with the other graduations corresponding to the schedule Norwegian will adopt as of Jan. 1.
Regent Seven Seas has one of the stricter cancellation policies in the industry. On cruises of 15 days or less, it requires a deposit equal to 15% of the cruise fare. Those canceling 90 to 120 days before sailing lose that deposit.
The balance of the cancellation schedule follows the new Norwegian policy.
Like many lines, Regent has a separate cancellation schedule for longer-length cruises that requires more advance notice to win a full refund. It also has a separate, higher-deposit requirement for the inaugural season of its new Seven Seas Explorer due in July.
In the contemporary segment, there are easier cancellation penalties for shorter cruises, generally less than six days, although the standards vary line to line.
Under Norwegian's current policy, cruises from one to five days in length can be canceled 45 to 60 days prior to sailing with loss of deposit, 30 to 44 days with a 50% penalty, 15 to 29 days with a 75% penalty and 14 days or less with full loss of the cruise fare.
Starting Jan. 1, the policy on cruises from one to six days in length calls for loss of deposit for cancellations 57 to 75 days from sailing, a 50% penalty from 30 to 56 days, a 75% penalty from 16 to 29 days and a 100% penalty at 15 days or less.
Certain types of sailings or certain ships are exceptions to the policy. For example, Norwegian's high-end Haven Garden Villas and Suites, and sailings around the Christmas and New Years holidays have stricter requirements, as does Norwegian's Pride of America, the only cruise ship in Hawaii. Norwegian consolidated the Haven and holiday sailings into one category in the schedule that starts Jan. 1.
Also there is a separate cancellation schedule that applies to add-ons to the basic cruise or cruise tour.
If a guest, for example, cancels the air portion of a cruise booking but not the cruise itself, there is a $100 fee if the cancellation comes 76 to 89 days before cruise departure.
The cost gradually increases to 50% of the air fare from 61 to 75 days before sailing, 75% of the air fare from 31 to 60 days and the entire cost of the ticket within 30 days of departure.
Source: Tom Stieghorst (Travel Weekly, "New Norwegian Cancellation Policy Strictest Among Contemporary Cruise Lines", December 22, 2015)
Re-posted on CruiseCrazies.com - Cruise News, Articles, Forums, Packing List, Ship Tracker, and more.
Please visit CruiseCrazies.com for more cruise news & articles.


Featured photo credit: Travel Weely