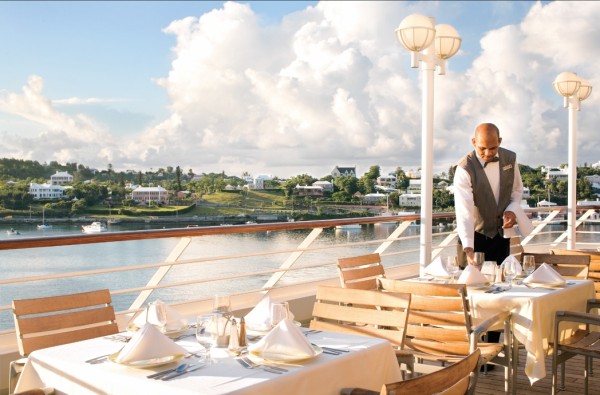 In today's cruise landscape, massive ships are often billed as destinations unto themselves: floating cities that boast parks, water slides, boardwalks, branded entertainment, shopping and dozens of dining and drinking options.
Azamara Club Cruises, a tiny two-ship brand in the giant Royal Caribbean Cruises portfolio, is trying something different. In an effort to stand out among the crowded field, Azamara tries to keep passengers off ships as much as possible.
Since President and CEO Larry Pimentel came on board in 2009, the brand has sought to differentiate itself by focusing on unique destinations, longer stays in port and one-of-a-kind tours that stretch into evenings.
"People travel for destination," Pimentel said in a recent interview in his office at Royal Caribbean's Port Miami complex. "They travel for culture, they travel for places, for sights, for sounds."
That focus — combined with an emphasis on service and relaxed atmosphere that lets guests leave the tux and gown on land — makes the company attractive to customers and travel agents, both terms that apply to Barbara Hacker.
President of Kendale Lakes Travel, Hacker recently raved about her sixth Azamara cruise in two years with a group of clients. This trip started in Southampton and ended in Amsterdam.
"It's a very comfortable cruise line to sell because the product is so nice and the people that work on the ships, the staff, become family," she said in an interview after taking a golf course tour in St. Andrews, Scotland. "It's not a welcome aboard, it's a welcome home."
Just a few years ago, Pimentel says, few agents had even heard of the company or its ships, Azamara Journey and Azamara Quest.
He was already a veteran of Cunard Line, Seabourn Cruise Line and the niche SeaDream Yacht Club when he got a call in late 2008 from Royal Caribbean Cruises Chairman and CEO Richard Fain about a new venture called Azamara Cruises.
"I said to him, 'Azamara what?'" Pimentel said. "Because the name didn't exactly resonate. Even the word itself ...there is no association with the word. One of the first things I asked him was what does it mean?"
(The answer, by the way: It's a nod to Romance language words that mean blue and sea, and also takes inspiration from the star Acamar.)
Made up of two 694-passenger ships from the defunct Renaissance Cruises, Azamara Cruises launched in 2007 after Royal Caribbean acquired Spanish cruise operator Pullmantur, which was operating the ships. Miami-based Oceania Cruises sails two nearly identical former Renaissance ships.
Executives at Royal Caribbean decided to spin off a deluxe new brand rather than add the ships to the larger Celebrity Cruises fleet.
After the conversation with Fain, Pimentel called agents and travel writers, pored over blogs and booked a suite on a 10-day Azamara cruise with his wife and conducted what he calls "the ultimate focus group."
Meals, morning coffee, laundry, lectures, shore excursions — all provided him with fodder for ways to improve the brand.
When Pimentel took the job in July of 2009, he took his time figuring out the best way to upgrade Azamara's offerings.
The end result: An emphasis on land rather than sea, and more-inclusive pricing rather than extra charges at every turn.
Azamara Club Cruises debuted in April 2010. The word "Club" was added to emphasize the more casual feel of the ships; passengers often remarked that the experience reminded them of their country clubs or yacht clubs at home.
Now, extras such as boutique wine, bottled water, sodas, specialty coffee and tea, gratuities, self-service laundry and shuttle service in ports are all included in the price. The company changed itineraries that had already been set to keep ships in key ports for more nights.
Promotional materials were changed to emphasize the word "destination" rather than "cruise," and the company added the phrase "You'll love where we take you" along with the promise of longer stays, more overnights and night touring.
While at sea, passengers still have lots to do: a small casino, entertainment, restaurants, spa, pool, fitness center, shopping, drawing room. And the night tour options include a private tour of the State Hermitage Museum in St. Petersburg, Russia or prime seating for the Monaco Grand Prix in Monte Carlo.
The formula seems to be working. This year, the ships were top rated in the "Overall Small Ships Category" in x's 2012 Global Cruisers' Choice Awards.
Pimentel highlights "astronomical" guest satisfaction ratings (including a couple of perfect scores) and said prices have more than tripled since he took over.
While the cost of an Azamara cruise was between $90 and $115 a day when he started, Pimentel said the fares have soared to more than $300 a day.
"He has this magical talent for parting you with your money and making you beg for more," said Carolyn Spencer Brown, editor-in-chief of .
Sites that feature passenger comments — good and bad — remain important to Pimentel, who said he looks at them every day. The company also appointed a chief blogging officer, Bill Leiber, who responds to chatter on forums and discussion boards.
While such a small brand rarely commands headlines, Azamara found itself under an unexpected spotlight when an engine fire aboard Azamara Quest in late March set the ship temporarily adrift off the coast of Borneo. No guests were injured, but five crew members suffered smoke inhalation, including one who had serious injuries.
Passengers ended up praising the ship's crew and the company for its handling of the incident, but media coverage was widespread since the fire followed the deadly shipwreck of the Costa Concordia in Italy by just a couple of months. Costa is owned by rival Carnival Corp.
Pimentel flew to Malaysia, where the ship was able to dock, to meet with all the passengers and help coordinate the aftermath.
"I knew full well going into this that this was not about Azamara, this was not just about Royal Caribbean Cruises, this was about the cruise industry," he said.
He said the challenges were many: accommodating guests in Malaysia, getting medical care for crew, countering misinformation.
"That guy was on a plane for two days to get there," Spencer Brown said. "So many times with cruise lines, when things go wrong they batten down the hatch. The way they handled that — and that's what I'm telling you — you come back for more."
Pimentel hopes, of course, that his existing customers will continue to come back for more as newcomers discover Azamara.
The next step for the company: a refurbishment and revitalization of both ships between the last quarter of this year and the first quarter of next. Details haven't been announced yet, but Pimentel said all areas of the ships will be included.
"It will create some wow factors on the ships which I think guests will be very enticed by," he said.
Asked about future plans for Azamara at a Royal Caribbean Cruises shareholders meeting last month, Fain praised the brand's development, customer satisfaction scores and service.
"It's gone through a transformation," he said. "And it has moved to distinguish itself and create a niche for itself at the very top end of the cruising field and it's done that brilliantly."
But, he said, the line was "still not earning its keep."
"In the past, we have built when the demand is there," Fain said. "We think it will come, we just have to get to that point."
By Hannah Sampson, Miami Herald