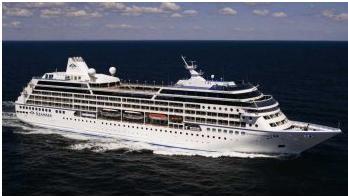 A luxury cruise ship carrying 600 mostly American and European tourists was adrift in Philippine waters on Saturday after an engine room fire that injured five crew, the coast guard said.
The blaze late Friday had been contained but it left the Azamara Quest drifting in the Sulu Sea, the cruise ship said, dealing a further blow to an industry that was already reeling from two incidents in as many months.
The Philippine Navy has rushed out three patrol craft and a fourth smaller vessel to provide assistance and they are en route, navy spokesman Lieutenant-Colonel Omar Tonsay told reporters.
As a precaution, the captain had initially asked all passengers to prepare to evacuate the ship, but that was no longer necessary, the United States-based Azamara Club Cruises said on its website.
The crew later restored power to one of the ship's engines, allowing the vessel to resume air conditioning, running water, plumbing and refrigeration, as engineers battled to restore propulsion to the stricken liner.
Refurbished in 2007, the upmarket vessel was carrying 590 mostly American and European passengers and 411 crew members, Philippine Coast Guard spokesman Algier Ricafrente told AFP.
The 180-metre (592-foot) vessel boasts spas, gyms, swimming pools, a casino and eight restaurants, as well as an acupuncture service.
It is stranded about 200 miles (320 kms) off the coast of Balikpapan, on the Indonesian section of Borneo, the operator said.
In January, the Italian cruise liner Costa Concordia ran aground off Tuscany, killing 32 people after it keeled over.
A month later a fire struck the Costa Concordia's sister ship Costa Allegra in the Indian Ocean. The vessel, which was carrying more than 1,000 people, had to be towed to shore by a French fishing boat.
The Malta-flagged Azamara, described on its website as a 30,277-tonne vessel, left Hong Kong on Monday for a 17-night dream voyage. It left Manila, its first stop, on Wednesday, and had been on its way to Borneo.
It was supposed to take in islands of the Indonesian archipelago, including the popular holiday spot Bali, before terminating in Singapore.
"Engineers onboard Azamara Quest continue to work on restoring propulsion to the ship," the operator said, without saying how long that would take.
Both the operator and the Philippine Coast Guard said the blaze in the engine room had caused smoke-related injuries to five crew members, who were treated on board. No passengers were hurt.
The nationalities of the injured crew members was not disclosed, although the Philippine transportation department said it was aware about 120 of the crew are Filipinos.
The Florida-based Royal Caribbean Cruises Ltd, the world's second-largest cruise company, operates Azamara Club Cruises and said it had dispatched a salvage vessel to tow the ship, should onboard engineers fail to get it up and running again, coast guard ensign June Greanata told AF