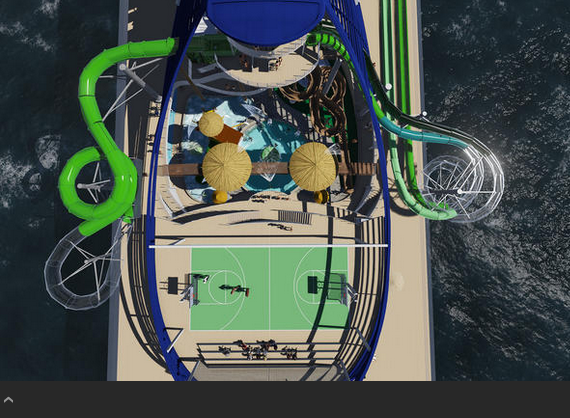 MSC Cruises has a lot of ships on order, but it's given one of them a name and is sending it to Miami.
MSC Seaside will debut in November 2017 and offer Caribbean trips year-round from a renovated dedicated berth at PortMiami. The 154,000-ton ship that can hold 4,140 guests at double capacity will be the second year-round effort from South Florida by MSC following the 2013 debut of MSC Divina.
The MSC Seaside will debut in 2017. The ship will sail from PortMiami year-round in 2017-2018. The 154,000-ton ship can hold 4,140 guests at double capacity.
"The Seaside class of ships is part of MSC Cruises' $5.3 billion fleet expansion plan that will allow the company to double its capacity by 2022," said line CEO Gianni Onorato at the Cruise Shipping Miami trade conference in Miami Beach. "Today is a very exciting day for the company as this is the first major announcement related to the company's new builds and demonstrates our enthusiasm and long-term commitment to continuing to expand our presence in North America."
Seaside is the first of two ships MSC has contracted to have built at Fincantieri shipyards in Italy, the second coming in May 2018, with an option for a third in 2021. The line currently has 12 ships, with the most recent being 2013's MSC Preziosa, all of which have been built at STX France, where two more ships are on order for MSC, due in 2017 and 2019.
"From the moment we started talking with Fincantieri, we had in mind to design and build two completely new ships, revolutionary in their structure, unlike anything that exists on the market today," said Pierfrancesco Vago, Executive Chairman of MSC Cruises last year. "Seaside is a futuristic prototype because of its structure, shape and versatility. Working closely with Fincantieri we are getting ready for the new and compelling challenge that the construction of these ships represents. It will be a real revolution in the world's cruise market, an excellent product for its unique and innovative architectural features and cutting-edge technology."
The Divina lasted one year before the line changed it to seasonal sailings from the U.S., although the year-round Caribbean market is a little crowded in PortMiami with the Norwegian Getaway and Carnival Breeze all offering up similar options for the summer, which is the slow season for Florida cruises.
"Since bringing MSC Divina to Miami in November 2013, we've seen significant demand from consumers in the product, excellent support from our travel agent partners and the growing need for additional MSC Cruises' ships in the market," Onorato said.
Most of MSC's business is based in the Mediterranean, but have brought increasingly larger ships to the North American market on a seasonal basis. MSC Poesia sailed out of Port Everglades until Divina's Miami debut. Divina's big at 139,400 tons and 3,500-passenger capacity at double occupancy, so the Seaside will usurp that by 14,600 tons and 640 guests. The Seaside's maximum capacity will be 5,300 guests from its 2,070 cabins.
The lines two vessels on order with STX France, which have yet to be named, will be even larger at 167,600 tons and 4,500-passenger capacity at double occupancy, putting them on par with Royal Caribbean's Quantum-class vessels.
As far as Seaside goes, the ship will have some unique features for cruises include what's promised to be the most interactive water park at sea sporting five water slides, one of which will be part slide, part video game.
WhiteWater West Industries of Canada is working on the water park, with its marquee ride to feature a game called Slideboarding, which allows guests to board a raft that traverses 367 feet down two stories with a built-in game controller featuring colored buttons. Riders will come across strobing lights of various colors, and rider will use the controller to match the colors.
Also in the park will be dueling 525-foot-long twisting slides that partially extend over the side of the ship, various water play features like forts, waterfalls, water jets for all ages and a child-oriented area with spray cannons, tipping buckets and mini slide.
Adjacent to the water park will be the Adventure Trail ropes course, which for added fun will be subject to a water cannons from below.
The 1,059-foot-long, 134-foot-wide ship's design also features 463,000 square feet of public space including a double deck atrium with glass walls offering up views of the ocean, waterfront promenade and will also have the cruise line's ship within a ship concept, the MSC Yacht Club, which offers guests private lounge, pool and solarium.
Beginning service for the winter season in 2017, it will be the first time an MSC ship will have its christening in North America as Divina sailed for more than a year in Europe before it made its way to Miami.
By Richard Tribou, Orlando Sentinel
For more cruise news & articles go to http://www.cruisecrazies.com/index.html
Re-posted on CruiseCrazies.com - Cruise News, Articles, Forums, Packing List, Ship Tracker, and more