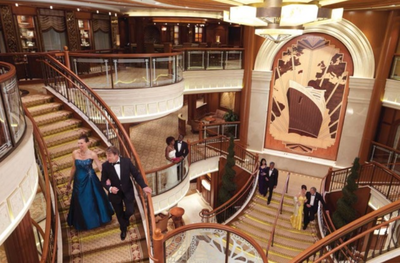 One of the world's most famous cruise ships will be based in Australia for more than 100 days over the 2019-20 summer, but there's a twist.
Rather than having the iconic Sydney Harbour as its home base, ocean liner the Queen Elizabeth will be based in Melbourne.  The ship, part of the Cunard line's "three queens" (along with the Queen Mary 2 and the Queen Victoria) and successor to the famous Queen Elizabeth II, can carry up to 2080 passengers.
The Queen Elizabeth, which is 294 metres long and can carry 2068 passengers and 996 crew, is coming to Melbourne.  The ship will sail on six round trips from Melbourne during the season, along with two trips from Sydney, with itineraries travelling to South Australia, Tasmania, New Zealand and Papua New Guinea.
The record visit will be almost double the ship's planned 54-day season in 2019.
Cunard senior vice-president Simon Palethorpe said the move reflected the importance of the Australian cruise market to Cunard as well as Melbourne's growing attraction as a cruise hub. Cunard expects the ship to inject almost $7 million into the local economy.
The news comes after Carnival Cruise Line's Carnival Legend recently arrived in Melbourne to begin its season with Victoria's capital as its home port. The ship made headlines this week after it anchored in Eden, New South Wales to put some passengers ashore after outbreaks of violence on board.
The announcement of another major ship to be based in Melbourne comes as Sydney struggles to cope with the number of cruise liners visiting Australia.
A Cruise Lines International Association (CLIA) Australasia report late last year found NSW accounted for 58 per cent of the cruise industry's $5.3 billion contribution to the national economy, but its share had dropped 10 per cent over the past two years due to Sydney reaching capacity for ships.
As a result, Victoria had experienced a 12 per cent increase to take a 7 per cent share of the national contribution.
"Australia is one of the world's most appealing cruise destinations for global cruise lines but Sydney is a big drawcard and if Sydney is full, this discourages more cruise ships from heading to our shores," managing director of CLIA Australasia Joel Katz says.
At 90,900 tonnes, Queen Elizabeth is the second largest ship to sail in Cunard's fleet, behind the Queen Mary 2 that visited Melbourne on the weekend. The Queen Elizabeth launched in 2010 and features more than 10 restaurants and cafes, a two-storey library, a ballroom and a three-deck theatre with seating for 800 guests.
Full details of the 2020 World Voyage season will be released on March 13, with the program scheduled to go on sale on March 20, 2018. See cunard.com
By Gene Sloan, Traveller.com
Re-posted on CruiseCrazies.com - Cruise News, Articles, Forums, Packing List, Ship Tracker, and more
For more cruise news and articles go to @ https://www.cruisecrazies.com
Edited by Jason