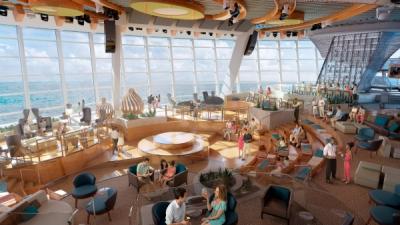 The Quantum class of ships advances the cruise experience with the introduction of revolutionary signature venues. At the forefront is Two70°, which is named for its magnificent 270-degree panoramic sea views provided by vast, floor-to-ceiling glass walls that span almost three decks high at the stern of the ship. This multi-level great room seamlessly fuses entertainment and technology to create a transformative journey for guests from morning to night.
When guests walk into Two70°, they are not just walking into any room - they are walking into the middle of one of the most stunning views imaginable. The soaring glass walls are a show-stopping and revolutionary step in ship design, offering guests unparalleled views of the ocean and destinations. Every guest has the best seat in the house, as varying elevations of nestled terraces with spacious lounge seating are staggered throughout the space. By day, guests can sit back and relax, soak in breathtaking views or socialize over a casual meal at The Café @ Two70°, a gourmet marketplace. Those in search of enriching activities can head up to the second level, which is home to a library and activity workshop. Guest lecturers, demonstrations, art activities and crafting classes ensure myriad options for guests.
As the sun sets and the lights go down, Two70° begins to reveal its evening persona, made up of spectacular, mysterious and unexpected entertainment. First stop of the evening - the beautiful, three-story dramatic curved bar that houses Royal Caribbean's first ice bar at sea. Serving as a magnificent focal point for Two70°, the bar conveys a sense of motion with a staircase spiraling around the bar, leading to the second level.
A feast for the senses, performances at Two70° don't take place only on stage, they happen all around, enveloping the audience through a combination of live performers, aerialists, performance art and breathtaking video. Even the sky-high glass walls become part of the entertainment, displaying projections of dazzling digital scenery that encircle the room.
Two70's unparalleled technology, theatrical lighting and sound equipment create a completely enthralling evening for guests, culminating in the most incredible reveal of all. Housed in the ceiling are six robot arms controlling individual 100-inch LED TV screens that extend down into the room, featuring gorgeous video and imagery that can virtually jump from screen to screen. The show then reaches its crescendo when lights illuminate the floor, setting a picture-perfect scene for late night dancing and celebrating, leaving guests to enjoy a magical evening that can only be found on Royal Caribbean.
Additional details about dining, entertainment and other unexpected features and amenities on Quantum of the Seas will be unveiled in the coming months.
Royal Caribbean International is an award-winning global cruise brand with a 40-year legacy of innovation and introducing industry firsts never-before-seen at sea. The cruise line features an expansive and unmatched array of features and amenities only found on Royal Caribbean including, jaw-dropping Broadway-style entertainment and industry-acclaimed programming that appeals to families and adventurous vacationers alike. Owned by Royal Caribbean Cruises Ltd. (NYSE/OSE: RCL), the cruise line sails 21 of the world's most innovative cruise ships to the most popular destinations in the Caribbean, Europe, Alaska, South America, the Far East and Australia and New Zealand. World-renowned for its friendly and engaging Gold Anchor Service, delivered by every staff and crew member, Royal Caribbean has been voted "Best Cruise Line Overall" for 10 consecutive years in the Travel Weekly Readers' Choice Awards
Source: Royal Caribbean International
For more cruise news & articles go to http://www.cruisecrazies.com/index.html
Re-posted on CruiseCrazies.com - Cruise News, Articles, Forums, Packing List, Ship Tracker, and more