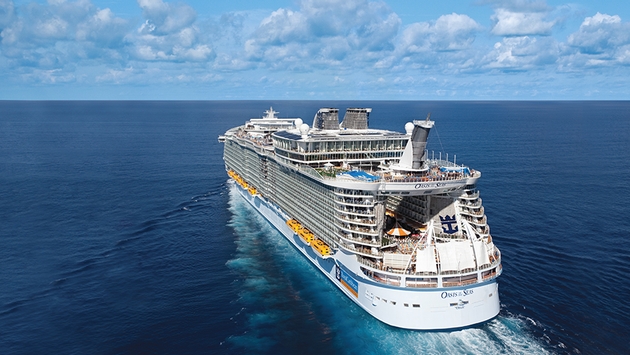 Royal Caribbean Cruises Ltd. is further investing in Asia, revealing plans to build a major cruise facility on a Taiwanese island.
The company confirmed plans to develop a site on Penghu Island currently used as a Taiwanese Navy-Coast Guard facility. RCCL said it entered into a "non-binding memorandum of understanding" with Taiwan International Ports Company (TIPC) with some options for private partners.
"The island, which has good infrastructure but is relatively underdeveloped for tourism, offers beautiful beaches, ancient culture, natural beauty, and great local seafood cuisine," Royal Caribbean said in a statement.
The two parties plan to invest about $33 million to build a 1,400-foot cruise ship dock capable of handling ships of up to 225,000 gross tons — such as Oasis of the Seas and Allure of the Seas, the two biggest cruise ships in the world, the TIPC said, according to an article in the Taipei Times.
The scope of the development further fuels speculation on whether RCCL will base one of the Oasis-class ships in Asia. The company already has announced its highly anticipated new Quantum of the Seas will move to Shanghai in May after six months at Cape Liberty in Bayonne, N.J. RCCL recently started construction on a third Oasis-class vessel and ordered a fourth, so where those mammoth ships will be based is of high interest. They're scheduled to enter service in spring 2016 and 2018.
The Taipei Times story said construction on Penghu would begin in October with completion scheduled for April 2016.
The article quoted John Tercek, RCCL's vice president of commercial and new business development, as saying Penghu was chosen because it is convenient to cruise ports in Hong Kong and Xiamen. Plus, demand for cruises from Beijing and Shanghai is growing by about 15 percent per year.
By THERESA NORTON MASEK, TRAVEL PULSE
For more cruise news & articles go to http://www.cruisecrazies.com/index.html
Re-posted on CruiseCrazies.com - Cruise News, Articles, Forums, Packing List, Ship Tracker, and more