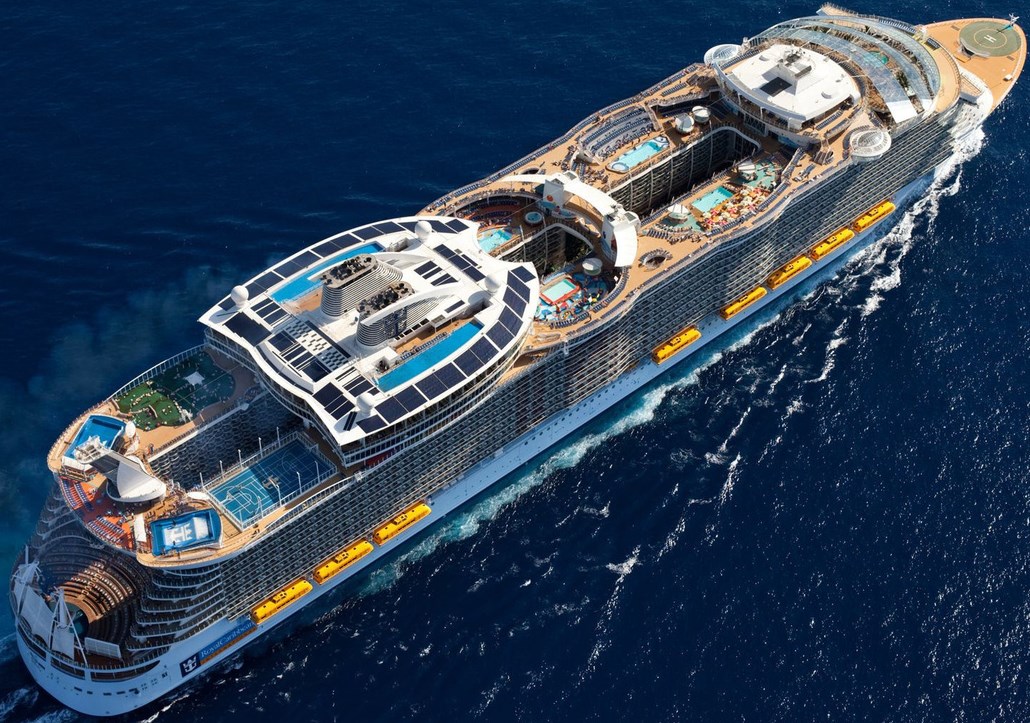 What's it like to plunge 10 stories while watching the wake of the largest cruise ship in the world?
That's the experience in store for guests on the world's largest cruise ship, Harmony of the Seas, due in June from Royal Caribbean International.
Royal Caribbean revealed details of a dual slide it is calling the "Ultimate Abyss." It was one of the last features to be kept secret on the 5,200-passenger vessel, which is the home stretch of construction in France.
The purple stainless steel slides are at the aft end of Harmony, an updated, slightly larger version of 2009's Oasis of the Seas. They corkscrew down from Deck 16, near the two FlowRider surfing machines, to Deck 5 where the ship's Aqua Theater is situated. The slides first shoot out over the lip of Deck 16 before curving back underneath to wrap several times around two pillars that support the upper decks over a massive void in the interior of Oasis class ships.
"You step out onto a really high, really see-through glass platform, then you go on a mat," said Alison Frazier, Royal Caribbean's director of entertainment and guest activities in a YouTube video, "You slide all the way down to the Boardwalk."
Ultimate Abyss is not a waterside, although Harmony of the Seas will have several of those too. "It's something completely different," Frazier said.
By Tom Stieghorst, Special for USA TODAY
For more cruise news & articles go to http://www.cruisecrazies.com/index.html
Re-posted on CruiseCrazies.com - Cruise News, Articles, Forums, Packing List, Ship Tracker, and more