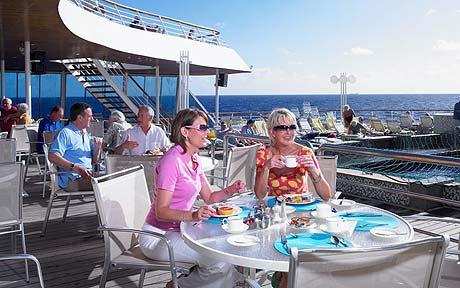 You have decided to embark on a cruise by yourself. Congratulations. An unforgettable holiday is waiting for you. Cruises are an excellent choice for people travelling alone. There is no need to worry about taking a taxi late at night by yourself or walking ages from a bar to your resort. On a cruise ship you take your hotel and all the facilities with you as you go. So you can enjoy a delicious meal, watch an entertainment show or have a drink in a night club without worrying about how to get back home. And because a cruise ship is to an extent an enclosed society, it offers a sense of community and friendliness that is often lacking in other holiday resorts.
But maybe you are a bit afraid to end up alone among couples and families during the entire stay. Do not worry. Cruise ships offer great possibilities to meet like-minded people. Whether you are into party, culture, art, sports or simply want to have a relaxing time – there is the perfect cruise out there. You just need to decide what you are after.
Many cruise lines offer singles only cruises that are specifically designed around the needs of solo travellers. You travel while making new single friends. You can wine and dine together, dance and plan special activities throughout the journey. Best of all, you can connect with whom you like, bypass those you don't and go on your own whenever you feel like it. Single cruises are especially useful for travellers who are shy to approach new people. All activities are organized to get solo cruisers together in a relaxed and informal atmosphere. Carnival Cruise Lines and the Norwegian Cruise Line offer singles cruises to Mexico, the Caribbean and the Mediterranean. If you prefer the North, they also have Alaska cruises. Most cruises are for all ages to ensure a mixed group with different tastes and hobbies. But they also offer more specific cruises such as the Over 40 Fall Singles cruise where, as the name suggests, solo travellers over the age of 40 come together.
If you prefer not to be mingled up with singles only, you can join standard cruises. Most of them offer single specific activities such as dinners and dances. Holland America, Crystal, Cunard and Celebrity Cruises, for example, offer gentlemen dance partners, so solo women never have to feel left out on the dance floor. And solo men don't need to worry either, as single female cruisers outnumber their male counterparts by three to one.
Most cruise lines also have welcoming parties for single guests, where you have the opportunity to meet other solo travellers. You can also ask to be seated at the dining table with other single cruisers. Don't be afraid that you will have to sit next to the same people every night. Nowadays most cruise lines offer open-dining where you can choose where to sit.
The best way to meet like-minded people is through the on-board activities. There are sport classes, dance lessons, card games and wine tasting to name a few. You are sure to find something in your area of interests, especially on bigger cruise lines that are out on the sea for a period of time. Don't be shy to join groups of travellers. As mentioned before, cruises offer a sense of community and friendliness that other resort holidays don't. This is what couples and families also enjoy about cruises and they are usually happy to interact with their fellow travellers.
The only downside to travel solo on a standard cruise is the single supplement. Since only one person occupies a cabin that could usually fit two, cruise lines tend to charge single travellers for the 'missing' passenger. But many cruise lines realised the potential of solo cruisers and offer now single cabins or great bargains for single people. Also, on some cruises you have the possibility to buddy up with another solo traveller of the same sex and share the room plus the expenses. This is not everyone's piece of cake but it's a great way of making a new friend for the journey.
If your main goal is to meet new people with the same interests you have, you can always join themed cruises. They are becoming increasingly popular as you can enjoy all the amenities and advantages of a cruise holiday while partaking in your favourite hobby. A themed cruise programme usually includes a series of lectures or hands-on classes depending on your field of interest – wine, modern music, architecture, famous people or sports. There are also some more unusual themes such as Vamps at Sea where vampire enthusiasts get together or the Elvis Cruise where fans can pay tribute to the King of Rock and Roll. Whatever you are looking, you are sure to find it on a cruise.