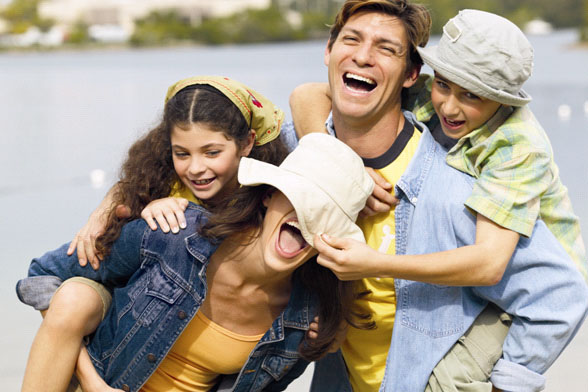 Parents want a vacation that doesn't leave them stressed out and exhausted. They don't want to worry that Junior is going to whine, be bored, throw a tantrum, bother the other passengers or not find anything he wants to eat on the menu. Cruises geared towards families with children are a great solution to this dilemma. The staff deals with fussy babies, sullen teens and everything in between, week in and week out. Nothing a pint-sized guest does will surprise them. Another bonus is that most of the other passengers have the same worries and won't notice the ruckus, let alone be bothered by it. So, what else should you consider before cruising with children?
Think Big: Parents and cruise directors alike know that kids get bored easily and need lots of stuff to do. A small ship may not be the best choice for children because there are naturally fewer options, but a mega ship, with a full time cruise director, will offer a wealth of options.
Teen Scene: Parents of teens should make sure there are plenty of "older" activities such as an Internet café, video games, and even a teen-friendly disco or night club. Find out what your kids are interested in, and check to make sure your cruise can meet the grade.
Childcare: Check with the cruise before you book. Some offer childcare programs during the day and babysitting services at night; some don't. If a break, without kids, is part of your vacation agenda, you need to pick the right ship.
Disney: It goes without saying that a cruise with Disney is a sure-fire hit with smaller children. The Disney team are experts at keeping kids smiling. Be sure to pack your Disney princess outfits from last Halloween. Your child now has an excuse to wear them one last time.
Cabins: Be realistic. If you are trying to save money, don't think that you can cram your family of five into a tiny, windowless cabin. If there is one bathroom and a teenage girl or two, your family may not survive the trip. Two adjoining rooms will keep you sane, net you an extra bathroom and is much cheaper than a king-sized suite.
Destinations: Have a family planning session. It can be a great opportunity to get together as a family and compromise. Once a general destination is agreed upon, have each child be in charge of picking one excursion. You can also let each child research an area or activity and contribute their findings to the meeting. Memories can be made just from the shared experience of planning a family vacation.
You know your family the best. If you select a trip that appeals to their interests, the cruise line's staff will take care of the rest and provide the entire family with a wonderful cruise vacation with many memorable moments.