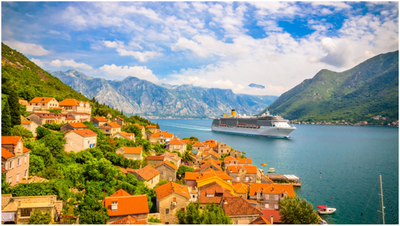 Every year, millions of tourists visit the Mediterranean to take in the beautiful cultures, landscapes, and beaches. There's such a wide variety of food, music, art and other attractions packed into a small geographical area. It's a region rich with history that points to the beginnings of much of modern civilization. Whether you're basking on the coast of Italy or snapping photos among the pristine white buildings of Santorini, Greece, a lifetime of experiences is within your reach. The Mediterranean has some of the most beautiful destinations in the world. Here are some of the must-see spots to hit on an idyllic Mediterranean cruise. 
1.     Santorini, Greece
Santorini is famous around the world for its bright white buildings that sit atop steep cliffs over crystal blue ocean water. The uniformity of the town is what makes it so stunning. You feel like you're in a different world, a different time. Once you settle into the local pace of life, you begin to understand why the locals love it so much. There's something so romantic about an ocean town designed with a style that has maintained such grace over the years. 
The way the town is set up allows for fantastic 360-degree views of Mediterranean sunsets. The food and music scene is also world-class. You can weave your way in and out of small roads and back alleys during the day, and sit and relax over the freshest seafood money can buy in the evenings. Santorini's got great shopping and music, and there are quaint picturesque villages within striking distance if you're there for more than a few days. 
 
2.      Cinque Terre, Italy
Chances are you've seen Cinque Terre in a magazine or on someone's wall in a painting. The region of the Italian Coast is a place like no other. All along the relaxing Italian beachline sit small villages and towns woven into the mountainous cliffsides. Just when you think you've seen it all, you round another bend in the road to find another group of buildings or a beach with unique gelato spots, cafes, and some of the best Italian food money can buy. 
Cinque Terre is a traveler's dream because it's got awesome beaches where you can relax, and you can walk yourself to death sightseeing every day. Bring your walking shoes, though, because most of the towns are on a slope. You're also going to want to climb to vantage points along the cliffs to snap the best photos from above. 
 
3.      Nice, France
When you're in the Mediterranean, the south of France is within striking distance. A lot of cruises include a stop or two there for travelers to partake in some of the world's best food and wine culture. Nice has wonderful beaches and plenty to do. When you're in town, don't forget to check out one of France's historical monuments, Villa Les Palmiers, the Marble Palace. This impressive structure was built in 1872 as a private residence for Ernest Gambard, a famous artist at the time. Gambard was also a consul for the French government.
The marble palace was designed with a mix of neoclassical and renaissance themes. The entire building is covered with Arabescato marble, giving the iconic palace its name. Arabescato marble is among the most famous strains of natural stone in the world and is used in many sculptures and monuments. It's mined in Tuscany, Italy, and comes in subtle blue-grey tones. 
 
4.      Majorca, Spain
Spain, like many nations in Europe, has seen a sea of change over the centuries. Different kings and rulers have held control over the country at different times. The result is a mixing pot of food, music, dance, dress, and architecture. Majorca is one of Spain's most elite destinations. The island features grand mountains, sandy beaches, and world-famous wineries. The food scene's no slouch either. There are multiple restaurants on Majorca that have been awarded Michelin Stars. Just make sure you make your booking well in advance if your cruise makes a stop through Majorca. 
 
5.     Dubrovnik, Croatia
Croatia doesn't get as much press as some of the other spots on this Mediterranean list, but it still deserves to be here. Croatia has been a serious up and comer in the European tourism industry over the past several years. It's got all the great beaches and scenery at a much more affordable cost compared to some of the other hot destinations. 
Dubrovnik is a perfect mix of an exquisite beach town with rustic history. It's a UNESCO World Heritage Site that hosts many music, dance, and food festivals. During July and August, the Dubrovnik Summer Festival is a huge draw among travelers around the world. If you don't mind the crowds, do your best to visit during the summer so you can participate in everything Dubrovnik's got to offer.