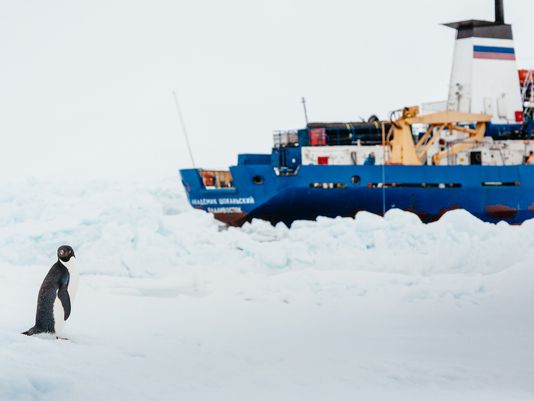 Cruise lines that carry tourists to Antarctica say that the research ship stranded in ice since Christmas Eve did not indicate any increased risk for Antarctic tourism.
All 52 passengers on the Russian-flagged research vessel Akademik Shokalskiy were evacuated by helicopter to an Australian icebreaker ship Thursday.
Kim Crosbie, executive director of the International Association of Antarctic Tour Operators (IAATO), noted that ships on private scientific expeditions like the Akademik Shokalskiy periodically get held up by sea ice during the austral summer.
"This is largely because they have very specific goals and objectives to achieve, usually at very specific destinations."
IAATO operators, however, "are primarily concerned with ensuring that visitors (tourists) to the continent have an educational experience in a safe and environmentally responsible way, and can be very flexible with their itinerary and destinations depending on weather and ice conditions," Crosbie said.
In addition, the Russian vessel is stuck in an area of Antarctica closest to New Zealand, while most IAATO member ships sail to the Antarctic Peninsula region nearest Argentina and Chile.
A spokesperson for Hurtigruten, a Norwegian cruise operator that cruises to Antarctica, said its passengers had not indicated any concern.
"This is not an area we venture to so it has little direct effect on us," said Elliot Gillies. "These storms can come up rather quickly, but Hurtigruten keeps a sharp eye out for any possibility of wind shifts and steers clear of any substantial ice packs just in case."
Another expedition operator to Antarctica, Linblad Expeditions, also said its ships did not visit that area of Antarctica.
"This ship is in the Commonwealth Bay area of Antarctica which is approximately 3,000 miles away from the Antarctic peninsula where we travel with the National Geographic Explorer," said spokesperson Patty Disken-Cahill. "The National Geographic Orion will travel to the Ross Sea area of Antarctica in about three weeks, and even that is about 750 miles from the Commonwealth Bay."
As of Tuesday, Disken-Cahill said that Linblad had received only one inquiry from a booked passenger based on the incident.
Crosbie said that in the history of Antarctic tourism there has been only one occasion when a ship carrying passengers was temporarily unable to make headway because of ice conditions, missing the end of expedition deadline.
"This was the powerful Russian icebreaker, Kapitan Khlebnikov, which had deliberately entered into the pack ice in the Weddell Sea to visit an emperor penguin colony in 2009," she said.
By Johanna Jainchill, Special for USA TODAY
For more cruise news & articles go to http://www.cruisecrazies.com/index.html
Re-posted on CruiseCrazies.com - Cruise News, Articles, Forums, Packing List, Ship Tracker, and more