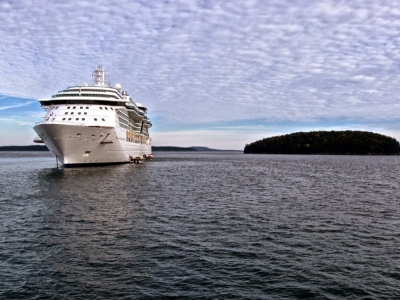 It's nearly November. Most of us have been shoreside and land locked since February or March 2020, or even earlier. The COVID-19 pandemic with the assistance of the CDC has seen to it that we won't be cruising any time soon. The CDC has extended it's No-Sail Order, again, through October 31, 2020, and who knows when ships will return. Unless you have been lucky enough to be able to cruise one of the European lines or a small ship adventure line exempt from the CDC's order, you're probably suffering from cruise withdrawal, wondering when and if you'll ever again be aboard a cruise again. Not that we don't have feelings. We recall the rampant cases of Coronavirus on board cruise ships earlier in the year, the quarantine that kept guests at sea for what seems like forever, and the crew members stranded aboard for many months away from their families while ships were kept away. While the virus continues to rage and re-emerge around the country, especially in the U.S., we remember those friends and loved ones who have become ill and those who have tragically died. Now eight months later, and the virus is still very much alive, surging in some cases, and people are getting restless.
Still, passionate cruisers want to cruise again - someday. And I believe we will, when it's deemed safe, when proper precautions are in place, and when there is a vaccine. Even now, cruise lines are working hard to secure that we can be healthy and safe when it's time to get back to the ocean. 
In the meantime, let's think about the ways we can survive this cruise drought. 
Plan Now, Sail Later! This is first and foremost the best way to combat cruise withdrawal. Just as the melancholy that takes over when you arrive home after disembarking a memorable cruise, the same principle applies. Don't put it off any longer. Book a cruise now, even if you're not sure what the future holds for cruise ships. Those of you whose cruise was canceled and you were given future cruise credit, it's easy. Just choose another cruise and move your funds over. However, if you've only been dreaming and wondering if you'll ever sail again, put those dreams to action. Book a cruise now and sail later. Most lines now have opened bookings up to 2022, are offering free amenities galore, and have instituted flexible cancellation and change policies. They value your business and are making it easier than ever to plan for later. In fact, assuming that the CDC drops the No-Sail order, cruise lines are betting that they will depart U.S. ports as early as December or January, and if you can tolerate risk of cancellation, you could snag a great deal!
See Where Others Are going! Okay, so you're still not sure you want to invest your time and energy in a future cruise during these uncertain times. I get it. We're all apprehensive, cautious and nervous about how this virus will play out. It's time to read, research and stalk the internet. People ARE currently traveling - not cruising, of course, but they are taking to the roads or the air. Do you notice how other people simply LOVE to flood social media with their latest and greatest travel photos? Does it make you crazy that they are traveling and you're not? Instead of wallowing in envy and jealousy, find out how these people are making it happen. What steps are they taking and how are they getting there? For example, I have several friends and acquaintances that have recently traveled amidst a pandemic, places like Cancun, the Dominican Republic, Hawaii, Las Vegas and our National Parks. They post photos of pristine beaches, majestic mountains, rugged canyons and frilly umbrella drinks. They report traveling to these places easily, safely and without major incident. Take a look at the trips others are successfully taking and ask yourself - could I do this?
Road Trip It! If you simply can't wait until it's safe to cruise again, take a quick road trip. A short 3-day trip will clear your head and soothe your soul. Depending on where in the country you're located, it could be a mountain retreat, a lakeside cabin or a beachside resort. Research the particular COVID policies for your destination, grab your mask and hand sanitizer, and take to the highway. Got a camper? Lucky you! Take off and see the country in your home-to-go! Or camp out under the stars in your favorite tent.
Dream Up a Staycation! If accommodations make you nervous, simply plan a day trip. Take to the road for a few hours and admire the scenery, whether it be snow-capped mountains or seaside vistas. If you're a photography snob, grab your camera and do a photo shoot. Alternatively, plan a virtual vacation in your living room or on the outside patio. If you're lucky to live in constant warmth and sun, a backyard pool and garden patio can be a great escape without the expense. Make some frilly umbrella drinks and pretend you're in the Caribbean. If you live in the snow belt, loop a virtual cruise or ocean video on your TV, lay a blanket out on the floor, whip up some Pina coladas in the blender, and have a picnic. A backyard fire pit can provide hours of camp-out fun, so grab some marshmallows! 
Bide Your Time and Don't Give Up! If the virus doesn't seem to be going anywhere and infection rates are up in your area, don't let it get you down. Unfortunately, the virus is still here and is creating disharmony across the country, on both sides of masking. If you feel it's just not the right time to travel, you're not alone. There continue to be risks, and peoples' lives are at stake. But don't despair - be proactive. Think about the destinations on your bucket list. Particularly those that can be reached by cruise ship. Read about it and make it forefront in your mind. Prepare and be ready when the coast is clear to book your dream trip! Realize that opportunities for both cruise and land travel - and to travel freely - will return. Just be patient! In the meantime, dream about those amazing travel adventures to come. 
________________________________
Thanks for reading! Comments and suggestions are always welcome.
For inspiration or assistance with cruise or land vacation planning, visit me at Seven Sea Journeys.