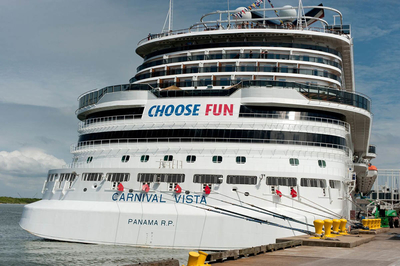 Miami-based Carnival Cruise Line, part of Carnival Corp. & PLC (NYSE: CCL; CUK), announced Sept. 23 that one of its newest and largest class of ships has arrived in Galveston.
Carnival Vista, which has been sailing out of Miami the past two years, is now the largest ship ever homeported in Galveston, according to a Sept. 23 press release from the company. As part of the homecoming celebration, Carnival donated $10,000 each to Houston SPCA and the Houston Food Bank.
The latest ship joins Carnival Freedom and Carnival Valor, which also sail year-round from Galveston. Combined, the three ships will carry more than 600,000 guests from Galveston each year, giving Carnival the biggest presence at the port, per the release. 
Carnival Vista has a normal cruise capacity of 3,934 passengers, according to a fact sheet, and carries approximately 1,450 crew members. It is 1,055 feet long and has 1,967 staterooms and 15 guest decks. The ship offers two itineraries out of the Port of Galveston. One will include calls at Montego Bay, Jamaica; Grand Cayman; and Cozumel, Mexico, while the other will visit Mahogany Bay (Isla Roatan), Honduras; Belize; and Cozumel.
"After 18 years of cultivating the cruise business in the State of Texas, we are thrilled to welcome Carnival's largest class ship to her new home," Rodger Rees, director of the Port of Galveston, said in the release. "As one of Carnival's most successful homeports, their decision to reposition their newest ship is a testament of their confidence in the port's continued success as one of the nation's top cruise ports. We look forward to continuing our mutually beneficial partnership."
Last November, Carnival announced its renovated Carnival Dream will move to Galveston in 2019 to expand the company's short-cruise capacity. It will be the newest and largest Carnival ship to operate a short-cruise program from Galveston.
The Port of Galveston is the fourth-busiest port by cruise embarkations, according to the latest report from the Cruise Lines International Association. Galveston had 869,000 cruise passengers in 2016, only a 4 percent increase from the year before. But since 2014, the port has experienced a 30.5 percent increase in embarkations.
By Gene Sloan, USA Today
Re-posted on CruiseCrazies.com - Cruise News, Articles, Forums, Packing List, Ship Tracker, and more
For more cruise news and articles go to https://www.cruisecrazies.com