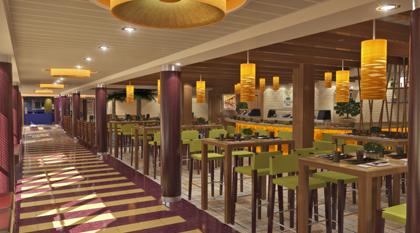 Add industry giant Carnival to the list of cruise line's with full-service sushi restaurants on ships.
Carnival today announced that its next vessel, the 3,690-passenger Carnival Breeze, will feature the line's first full-service, sit-down sushi eatery, to be called Bonsai Sushi. Until now, Carnival only has served sushi as an appetizer at small, take-away sushi bars open for limited hours.
Located along the Carnival Breeze's Promenade Deck, Bonsai Sushi will offer a wide variety of Asian-inspired items including sushi, sashimi and rolls along with bento boxes, Carnival says. The decor of the eatery will include Bonsai trees, artwork by graffiti artist Erni Vales and colorful koi kites flown during impromptu celebrations, the line adds.
Prices at Bonsai Sushi will range from $1 for appetizer-sized portions to $15 for a "sushi ship" for two.
Carnival today also revealed that the Carnival Breeze will have a new-for-the-line open-air barbecue eatery. To be called Fat Jimmy's C-Side BBQ, it'll also be located on the ship's Promenade Deck and serve barbecued chicken breast, kielbasa, Italian sausage and pulled pork sandwiches, along with traditional sides such as baked beans, potato salad, coleslaw and mini-corn muffins. Passengers will not be charged extra to eat at it.
The new eateries are in addition to a number of other food outlets that Carnival already has announced for the ship, including the Guy Fieri-branded Guy's Burger Joint and a Mexican restaurant called BlueIguana Cantina.
Currently under construction at a shipyard near Trieste, Italy, the 130,000-ton Carnival Breeze is a sister vessel to the 10-month-old Carnival Magic. It's scheduled to enter service on June 3. Read about the Carnival Breeze's new cabin designs.
The Breeze will sail a one-time voyage from Venice to Barcelona on June 3 before beginning a season of 12-night Mediterranean voyages out of Barcelona through Oct. 25. The ship then heads across the Atlantic to Miami, where it will sail six- and eight-day Caribbean cruises year-round.
By Gene Sloan, USA TODAY