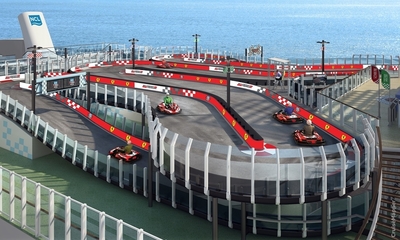 Cruise fans are buzzing about Norwegian Cruise Line's newest ship, the 4,004-passenger Norwegian Bliss, and for good reason.
Scheduled to be christened later this month in Seattle, the Miami-based cruise operator's largest vessel ever ranks among the most activity-packed ships at sea, with a wide array of eateries, bars, nightspots and deck-top amusements.
USA TODAY Cruise had early access to Bliss in April in advance of its U.S. debut, and here we highlight five things to love about the vessel (for a more expanded first look at Bliss's public areas and cabins, scroll through the carousel above).
1. The watery fun zones. You don't have to be a kid to appreciate the appeal of the pools and water slides atop this ship. The attractions include Aqua Racer, a swirling, four-deck-high tube ride that rivals anything found at a land-based resort. There's also a second water slide called Ocean Loops that spins around the side of the ship. In addition, the top decks of Bliss offer two large pools, four hot tubs and a watery play area for kids with squirting water features designed for little ones. In short: Prepare to be soaked.
Among the biggest attractions atop Norwegian Bliss is Aqua Racer, a swirling tube ride that drops four stories to the main pool deck. (Photo: Gene Sloan, USA TODAY)
2. The race track. As if the water slides and pools weren't enough deck-top fun for one cruise vacation, Norwegian has devoted another generous chunk of the ship's exterior space to a two-deck-high race track — a first for a vessel aimed at North Americans. The track features electric go-carts that can reach relatively high speeds, and passengers compete against each other in heats that involve making several laps around the course.The only other cruise ship with a race course on its top deck is Norwegian Joy, a one-year-old sister ship to Norwegian Bliss that's dedicated to the Chinese market.
The race track atop Norwegian Bliss features electric go-carts that can reach relatively high speeds. Passengers compete against each other in heats that involve making several laps around the course. (Photo: Gene Sloan, USA TODAY)
3. The Waterfront. Norwegian brings back the sea as a focal point of the cruise experience with this boardwalk-like area where passengers can dine overlooking the water. Located on both sides of Deck 8, The Waterfront features outdoor extensions of four Bliss restaurants including the line's signature Cagney's Steakhouse and Italian eatery La Cucina. It also harbors an outdoor extension of mojito bar Sugarcane and nightspot The Cavern Club as well as an ice cream stand called Dolce Gelato. 
Norwegian Bliss features a boardwalk-like area called The Waterfront with outdoor seating for eateries and bars. (Photo: Norwegian Cruise Line)
4.The Texas-style barbecue eatery. Barbecue isn't easy to do on cruise ships, where open flames are against regulations. But Norwegian may have hit on the secret sauce for an at-sea barbecue eatery with Bliss's new Texas-style smokehouse called Q. Located on Deck 6 in a space that harbors dinner theater-type entertainment on several other Norwegian ships, it's a lively spot serving an a la carte selection of brisket, ribs, chicken and sausages smoked over hickory, oak and pecan woods. Desserts include banana pudding made from the recipe of a top Norwegian executive's aunt). Q also features a stage with live contemporary pop country music, and it transform into a dance spot at night. 
Norwegian Bliss features a modern Texas barbecue eatery called Q that offers live pop country music — a new concept for the line. (Photo: Gene Sloan, USA TODAY)
5. The Broadway-style shows. Norwegian has been at the forefront of an evolution in cruise ship entertainment in recent years, and nowhere is that more evident than on Bliss, which boasts several high-production musicals. Alternating as the billing in Bliss's main theater is Jersey Boys, the Tony Award-winning musical about the 1960s rock 'n' roll group The Four Seasons, and Havana!, a spicy musical about 1950s Cuba. More high-energy entertainment is located in The Cavern Club, a re-creation of the legendary Liverpool club where the Beatles performed that features a Beatles cover band.