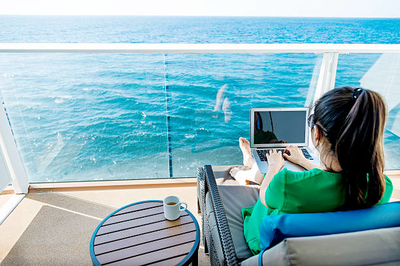 Norwegian Cruise Line is aiming to improve its Wi-Fi connectivity to cater to younger Millennial travelers. According to the company, that demographic now accounts for a quarter of passengers and is the fastest growing segment.
Cruises have been attempting to appeal to Millennials in several ways. Some employ bikes and trampolines, but Norwegian says a more practical solution is to fix common connectivity issues.
netTALK, a digital communications company that is collaborating with Norwegian Cruise Lines is trying to cruise-goers communicate online while on board. The tech company first provided its technology on the Norwegian Sky to give cruise-passengers unlimited calls and messaging while onboard for a one-time fee of $9.95 -- and will now be included on all the ships. The services are utilized by using the Cruise Norwegian app.
The app allows guests to keep connected with friends and family on the ship or back at home. Once connected to the WIFI network, the app could be used to keep track of cruise programs and make reservations for dining, entertainment and shore excursions.
netTALK is providing technology to support the app's range of capabilities. Groups can organize meetups, stay in contact and send their photos to all in their party via group messaging. The cruise says the goal of this app is to allow people to communicate as if they were still on land.
By Travel Agent Central
Re-posted on CruiseCrazies.com - Cruise News, Articles, Forums, Packing List, Ship Tracker, and more
For more cruise news and articles go to https://www.cruisecrazies.com