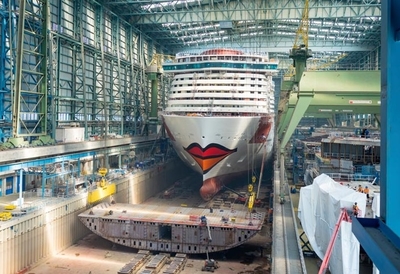 The first cruise ship from AIDA Cruises to use LNG is scheduled to leave the Meyer Weft's covered building dock on August 21.
AIDAnova is the world's first cruise ship that will be operated both in port and at sea on LNG, using four dual-fuel Caterpillar engines. 
On leaving the building dock, she will berth at the shipyard's outfitting pier where her mast and funnel cladding will be fitted, along with further interior fitting out. Additionally, her engines will be tested using LNG. 
Approximately 1,400 members of the ship's crew will shortly be commencing their onboard training. 
Her passage along the river Ems to the North Sea for sea trials is scheduled for the end of September. The 5,200-passenger cruise ship will be welcoming her first guests on board in mid-November 2018, immediately after delivery. AIDAnova will have over 2,600 passenger cabins, with a gross tonnage of over 180,000, a length of 337 meters (1,105 feet) and a width of 42 meters (138 feet).
Carnival Corporation has contracted with Meyer Werft for seven LNG ships, including two each for AIDA and Costa, as well as two for Carnival Cruise Line and one for P&O Cruises. "Other firms that are adopting LNG-power include Royal Caribbean International, which has ordered two ships from Meyer, and Disney Cruise Line, which will use LNG-power for its three cruise ships also on order at Meyer," says cruise industry analyst, Allan E Jordan. In addition, MSC Cruises plans to build four 200,000 gross ton LNG-powered cruise ships at STX France.
Carnival and AIDA have already been gaining experience successfully using LNG in the dual-fuel engines on AIDA's new cruise ship the AIDAprima to generate power while in port at Hamburg, Southampton, Le Havre and Zeebrügge. 
The Maritime Executive spoke with Tom Strang, Senior Vice President Maritime Affairs for Carnival Corporation, to get an in-depth view of the challenges. He says, LNG is an economic, clean and safe marine fuel with increasing global availability that also complies with existing and scheduled emission requirements. "By building new ships that will be powered by LNG both while in port and at sea, we believe we are setting ourselves up to take advantage of these benefits and future-proofing our fleet."
By Maritime Executive
Re-posted on CruiseCrazies.com - Cruise News, Articles, Forums, Packing List, Ship Tracker, and more
For more cruise news and articles go to https://www.cruisecrazies.com