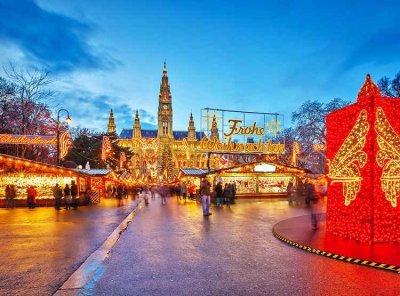 Traditional Christmas markets throughout Europe have a special, unique holiday essence. It's impossible not to feel nostalgic and sentimental as you explore these quaint locales brimming with the spirit of the season.
From miles of twinkling colorful lights to skilled vendors displaying their handcrafted wares, these centers of holiday staples can evoke cheer in every visitor.
AmaWaterways offers many options to celebrate the holiday season, however and wherever you like, thanks to their great selection of Christmas market cruises to many popular European locations.
Immerse yourself in a real-life snow globe in Austria or be transported into a charming holiday village in Switzerland.
Whatever your vision of the perfect holiday vacation experience may be, the expert dream trip planners at AmaWaterways can make it happen.
Popular Destinations in Europe 
The great thing about embarking on one of these voyages is that you also get the chance to explore some of the most popular destinations across Europe. If you join the seven-day Christmas Markets on the Rhine cruise, stops along the way include Heidelberg and Cologne, plus Amsterdam.
You can also enjoy a gondola ride, explore villages on two wheels via a bike tour or indulge in a wine tasting.
The Christmas Markets on the Danube voyage, meanwhile, takes you from Nuremberg to Budapest. Cruise through quaint villages and stroll through picturesque scenes that are like a holiday card brought to life.
See the local sights on a walking tour through Regensburg or Passau. Take advantage of the rare opportunity to tour a Benedictine Abbey, or join a bike tour as a fun way to explore the streets of these towns.
 For the ultimate holiday experience, opt for the 14-night voyage. This combines the best of both cruises with some special bonuses and surprises. With a route that takes you to five countries, this is the perfect way to maximize your winter European adventure.
From the romantic canals to the scenic countryside, you will encounter scenes straight out of a postcard at every turn. Optional experiences and activities can also be added on throughout the trip, offering the chance to tailor your voyage to your own individual preferences.
These cruises offer the opportunity for you to visit some of the European Christmas villages that were named among the best in that region by Travel + Leisure. For those who love everything about the holiday season, this is truly the dream trip of a lifetime.
All voyages offer luxury accommodations, personalized service that makes you feel like a VIP, including a long list of amenities, gourmet cuisine and onboard entertainment.
Each ship is like a floating upscale resort skimming the water, with fitness facilities, pools, lounge decks, spas and everything you could want in an elite cruise environment. You will also get unlimited fine wine, beer and soft drinks with lunch and dinner. 
Edited by sunluva7